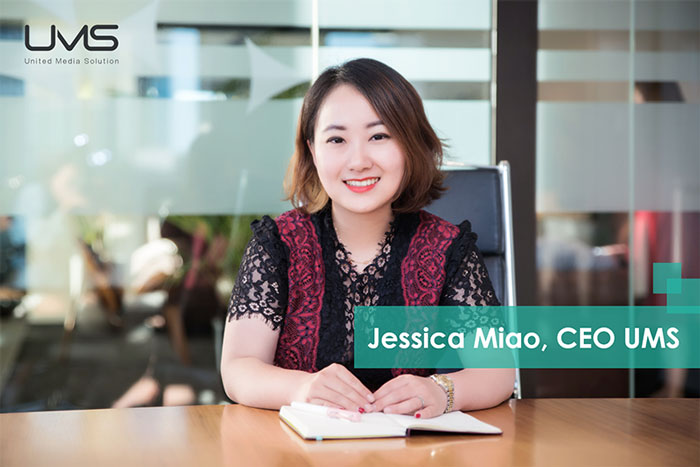 M+AD spoke to UMS CEO Jessica Miao, about how the digital marketing agency is experiencing a strong growth in 2018.  Below is a reproduction of the article or you can view it online here.
United Media Solution (UMS), New Zealand's leading Chinese digital marketing agency, experienced a strong period of growth in the first half of 2018 off the back of the maturing trade market between New Zealand and China.
New Zealand's strong ties with China stem from the Free Trade Agreement the two nations signed in 2008, which was a world first for a developed nation. Last year New Zealand exports to China accounted for almost $12 billion, a 27% increase on the previous year, yet again confirming its status as the country's biggest export market.
With China driving the majority of the growth in New Zealand's export market and kiwi companies increasing looking to leverage this market, UMS' experience helping New Zealand companies to connect their brands and products with Chinese consumers is highly sought after.
UMS has signed contracts with a host of New Zealand companies this year including, Open Country Dairy, Rockit Global Limited, Primary Collaboration (PCNZ), Manuka Group, Nekta, Auckland Museum and Aspire2 International.
The agency has this week also been appointed as digital marketing partner for New Zealand Avocado Industry.
UMS has been appointed to help build awareness and sales of New Zealand Avocados in a bid to boost sales in the China market. UMS will create a brand story and implement digital marketing, social media marketing, influencer activities and events to help connect Chinese consumers with the kiwi products. The appointment is part of an overarching strategy to quadruple sales of NZ Avocados to $280m and triple productivity by 2023.
Jessica Miao, Chief Executive Officer at UMS, said "The market in New Zealand is maturing and a lot of kiwi businesses are eager to launch their products and services into the China market. We're also seeing a lot more knowledge and confidence among New Zealand companies who are keen to connect with China's savvy consumers."
Miao said the company was also experiencing growth from across the pond, following the launch of an office in Melbourne, Australia in January. The Australian team is already working with Australasian skincare brand DU'IT and Australian luxury fashion retailer Harrolds.
As New Zealand businesses become more adept at marketing to Chinese consumers in China, UMS is also seeing a growing trend in kiwi companies marketing to Chinese consumers in New Zealand.
UMS has recently been appointed by electricity provider PowerShop New Zealand to help the company engage with Chinese kiwis in New Zealand. UMS will develop and manage digital marketing, PR and media activity to help increase PowerShop's brand awareness among New Zealand's Chinese community.
UMS also works with Vodafone New Zealand to help the brand manage its marketing activity as part of its Vodafone Red Connect service, which provides New Zealand's Chinese community with product information, promotions and services in their native language via call centres, websites and social media.
Miao said, "UMS has experienced a strong growth period for our business which is a sign of the booming market for companies looking to connect with Chinese consumers. New Zealand brands benefit from the country's strong marketing and brand attributes of being "pure" and "green" and Chinese consumers trust the quality of products from this market.
"We believe our unique offering as a Chinese-headquartered company with in-depth market expertise in China, as well as local market experts in both our Auckland and Melbourne offices is the key to our success. We're proud that clients also believe in our model and can benefit from our expertise and experience helping foreign brands connect with Chinese consumers."