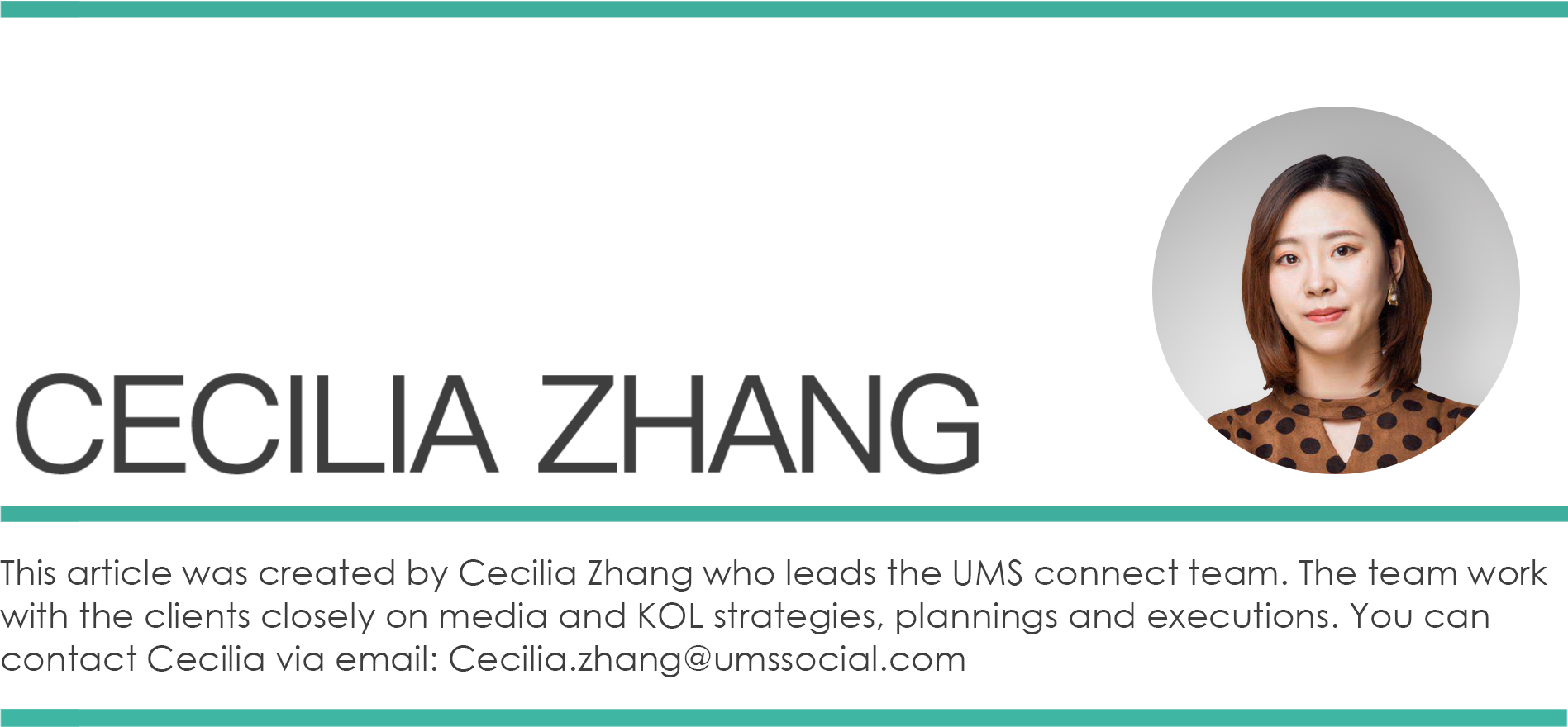 A recent report by China's Southwestern University of Finance and Economics, indicates that the demand from Chinese students studying abroad remains strong, and was not hugely affected by the COVID-19 pandemic. UMS' Daily Morning Brief (education) suggested, the total number of Chinese students overseas in 2019 was about 890,000 and 97% of students were satisfied or very satisfied with studying abroad. Although many students put their plans on hold during the pandemic which resulted in a drop of physical Chinese students overseas in 2020, experts are still positive that student numbers bounce back once vaccinations are more widely available in 2021. In fact, we expect to see international students apply to more than one university in different countries or locations in order to secure a spot.
With the increasing competition in the overseas education industry, education brands are looking for ways to obtain more Chinese students, include e-learning courses, provide home and distance learning and set up physical campuses in China, etc. As digital disruption evolves in the education space, most education marketers have started to engage digital platforms and compete in the brand and marketing space. The peak seasons in the marketing calendar for the overseas education sector, are May-Aug and November-January.
In one's digital marketing strategy, WeChat advertising is important tool education brands usually adopt due to WeChat' mature digital ecosystem and large user database. WeChat's smart data ability enables marketers to run targeted ads and gain invaluable consumer insights. Until Q1 2021, WeChat's total registered number is over 1billion, with 780million engaging with WeChat's Moment, and 400 million users on Mini Program.
▲This chart was updated in early 2021
Like other Western ad platforms like Google and Facebook, WeChat has a platform that provides a series of different advertising options for brands to achieve sophisticated objectives. However, for many education marketers, WeChat is still new and foreign. Without a clear understanding of WeChat, its ad's capabilities and measurements, it's hard to master WeChat advertising and release its great potential.
In our last blog – Unveiling WeChat's primary advertising scenarios, we discussed how to run an awareness campaign, conversion campaign and product promotion in different business scenarios on WeChat. Based on some recent successful ad cases on WeChat, we have prepared two examples for marketers which are particularly relevant for education marketers.
Conversion Campaign
Scenario: For lead generation campaigns, WeChat ads can enable simple sign-ups in its ad format. User conversion can be effectively increased during the campaign which can also contribute to greater brand awareness.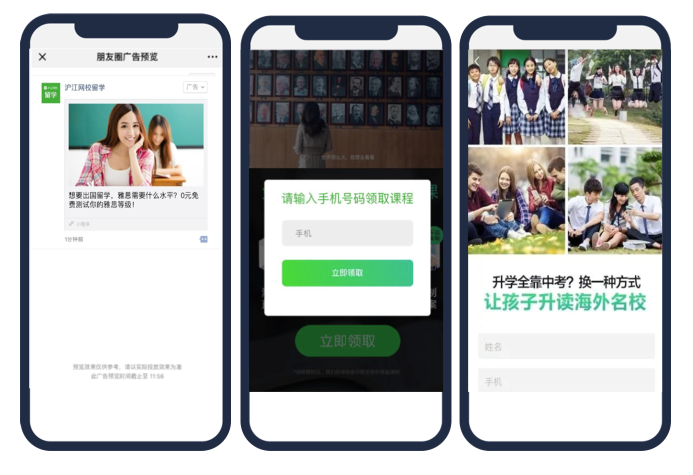 An education service provider who offers consulting services and support for students selecting overseas universities ran a WeChat moment ad which aimed to increase the number of direct sign-ups. With a simple creative, the ad demonstrated the core selling points of its service and offerings and included a list of its partnered schools and universities overseas.
Product Promotion
Scenario: When a brand has new collection launch or wants to promote hero products and encourage direct sales through its ads, WeChat ads are supportive in directing users to online sale pages.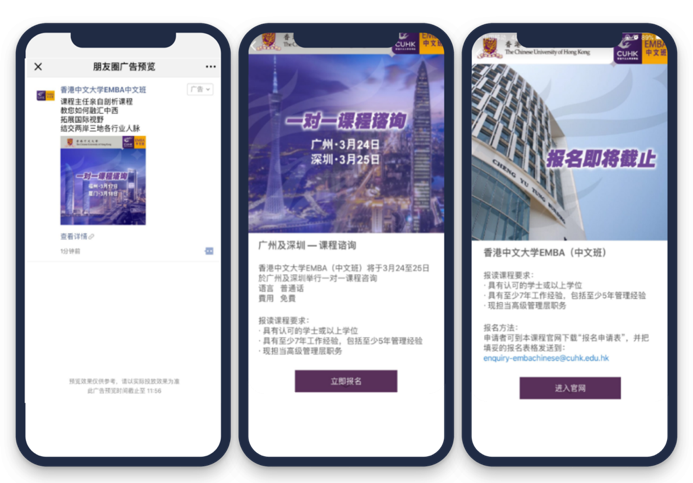 The Chinese University of Hong Kong ran a WeChat ad campaign to promote its Chinese EMBA courses. Users were led by the creative of the ad to book a one-on-one enquiry session in Guangzhou or Shenzhen. When the users clicked on the 'details' button, they were directed to the university's official website.
WeChat advertising applies to a wide range of scenarios, and according to the characteristics of different industries, brands can find the corresponding solutions. UMS continues to keep track of how different industries are utilizing WeChat ads and will share case future case studies.
For the third year in a row, UMS has been granted the certified Tencent Ads Preferred Partner for the international market and has substantial case studies that demonstrate our expertise. To access a copy of UMS' WeChat Ads credential, please leave a message to Cecilia Zhang at Cecilia.zhang@umssocial.com .
END.