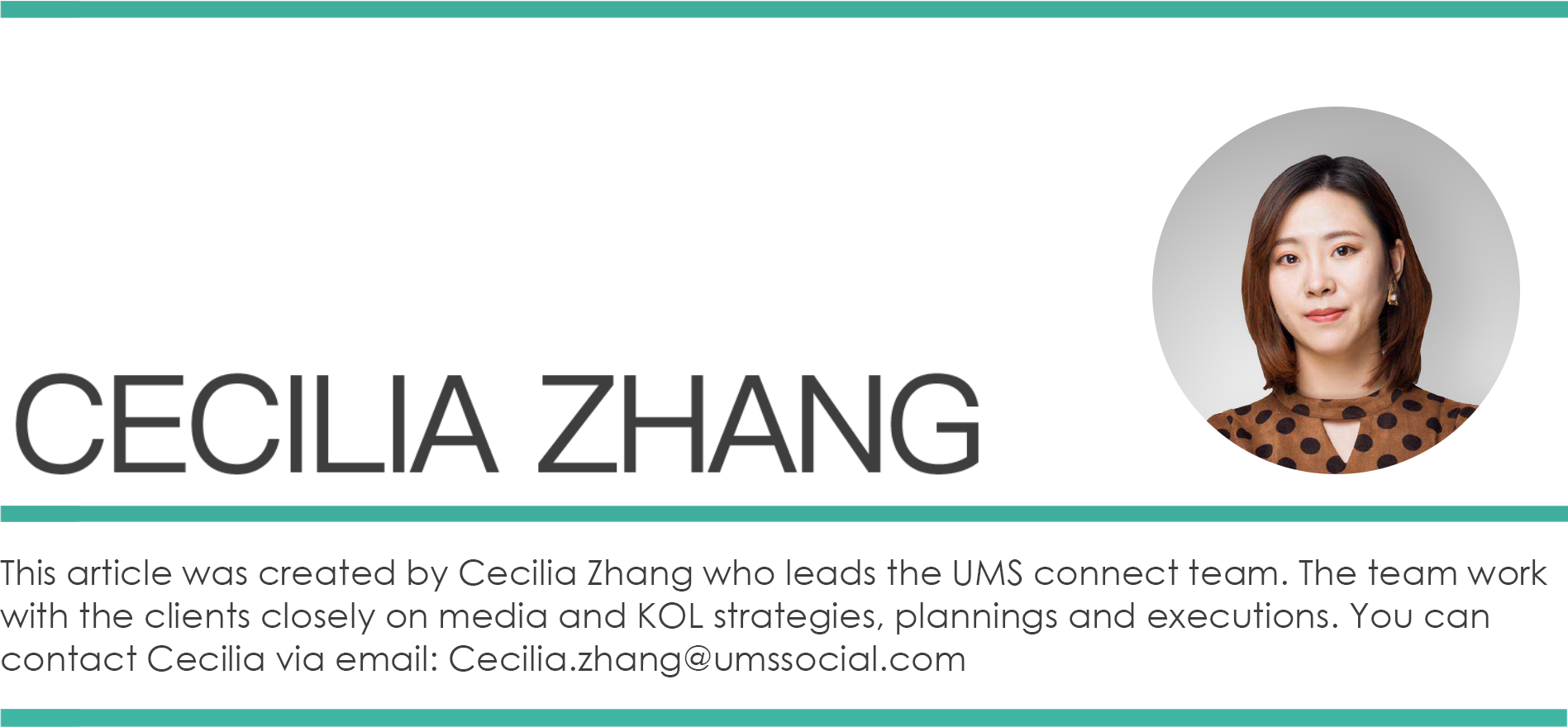 As of 2020, China's biggest social media platform, WeChat, has gained over 1.1 billion monthly active users. In front of such a huge consumer market, more and more brands are choosing WeChat ads to promote their products and services, making it an extremely popular service.
However, many overseas marketers are confused about how to use WeChat ads to better engage their audiences. Therefore, we have summarized some of WeChat's primary advertising scenarios in the Chinese market along with accompanying case studies.
Awareness Campaign
▶ Scenario: When a brand needs to increase exposure for a brand campaign, WeChat ads can be used to reach a large number of WeChat users.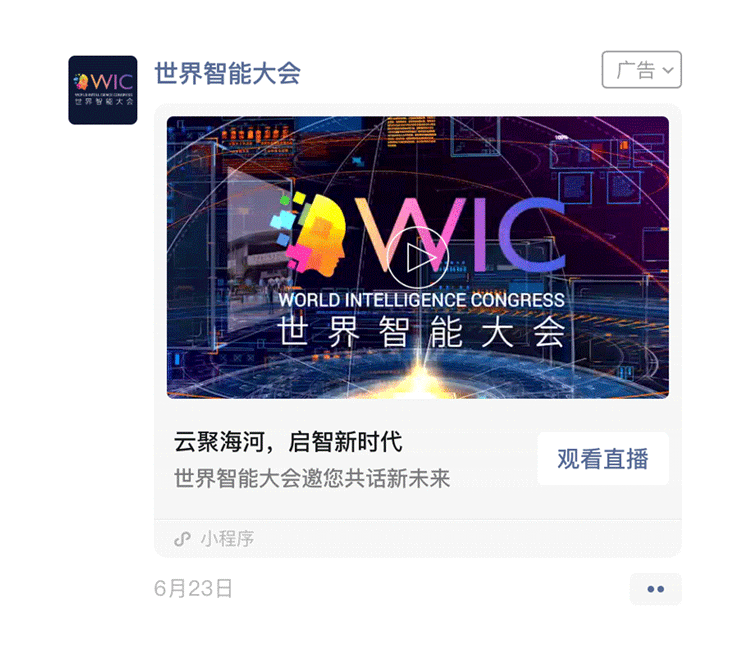 The World Intelligence Congress is the world's top event in the field of intelligence technology. To celebrate its 4th year of success, this year's conference was held online. The event organizer utilized WeChat ad to run a series of creative campaigns to build awareness and drive web traffics. During the event's launch, a creative video ad was released that provided a glimpse of the conference and allowed audiences to access the live stream through the ad. This interactive tactic brought high levels of traffic to the live stream and was regarded as an innovative use of the WeChat ad functionality.
Conversion Campaign
▶ Scenario 1: When a brand is running a retail promotion campaign in the brick and mortar store, the LBS (Location-based Service) ads are recommended.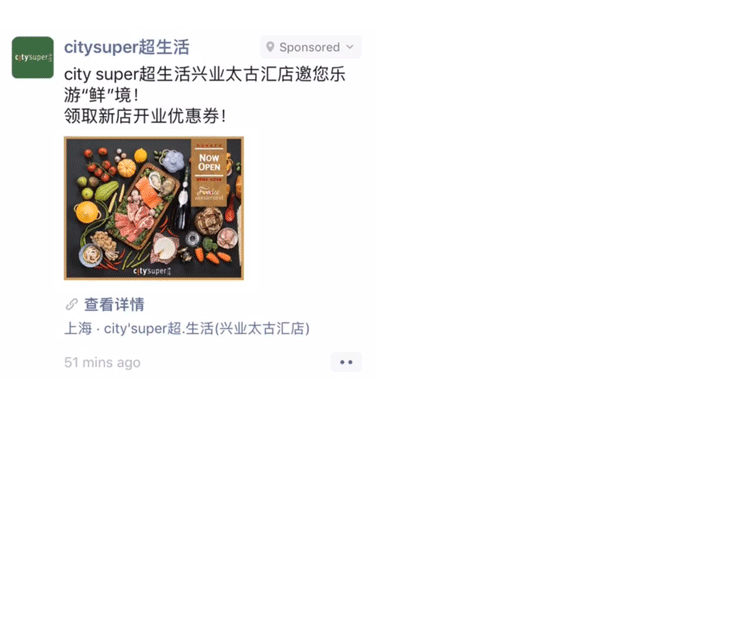 On one hand, City'super used WeChat ad' LBS feature to accurately reach people surrounding their stores; on the other hand, it attracted those further away on a much larger scale. Combining high-quality creative materials, it recommended the brand to potential customers and attracted them to purchase through City'super online store.
▶ Scenario 2: WeChat ads can help boost the number of app downloads.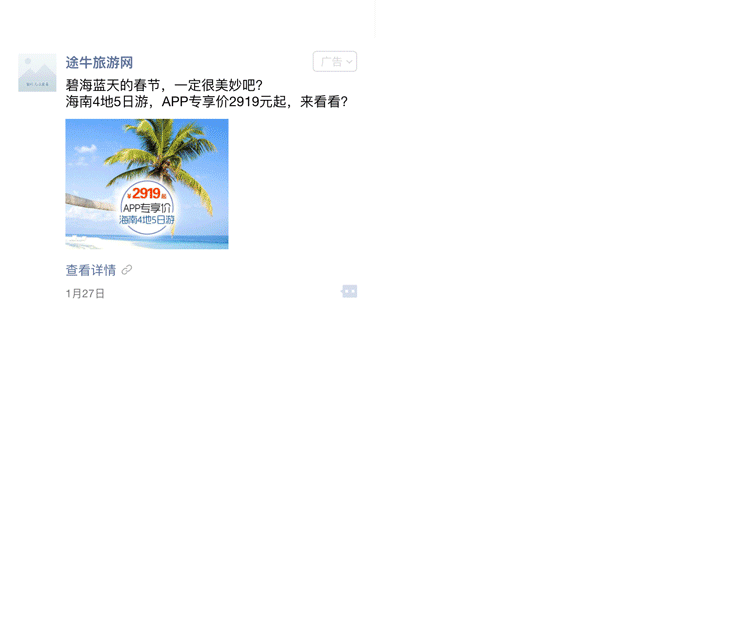 During its launch period, Tuniu Travel encouraged an impressive number of new users to download their app, causing their sales and brand awareness to quickly increase. Tuniu Travel targeted its customers with an interest in travel located in central and northern cities with cooler climates. Its advertising campaign released images of travel scenes combined with weather conditions to attract users and generate travel demand.
▶ Scenario 3: Experienced marketers use WeChat ads to gain a larger followership.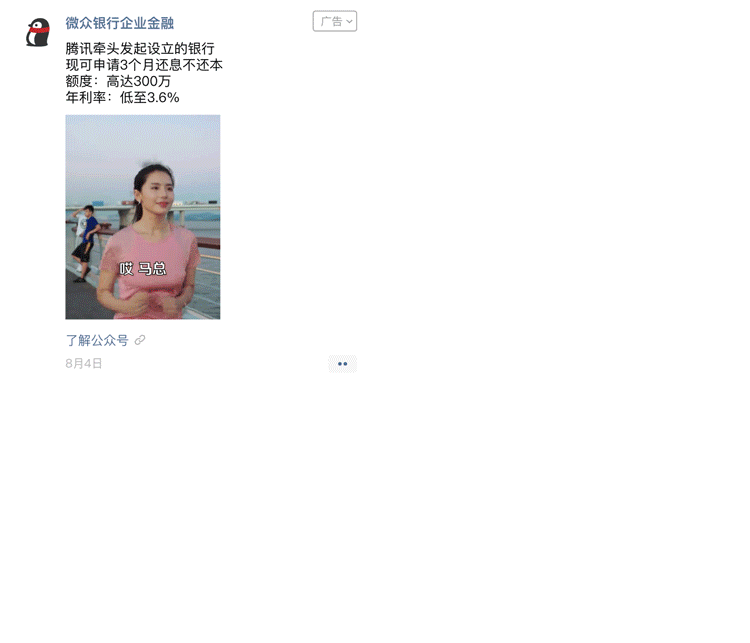 In order to promote its WeChat Official Account, WeBank advertised its brand video in WeChat ad. The copy of the advertisement clearly showed the advantages of banking with WeBank and thus attracted a large followership through the ad.
▶ Scenario 4: For lead generation campaigns, WeChat ads can enable simple sign-ups in its ad format. User conversion can be effectively increased during the campaign which can also contribute to great brand awareness.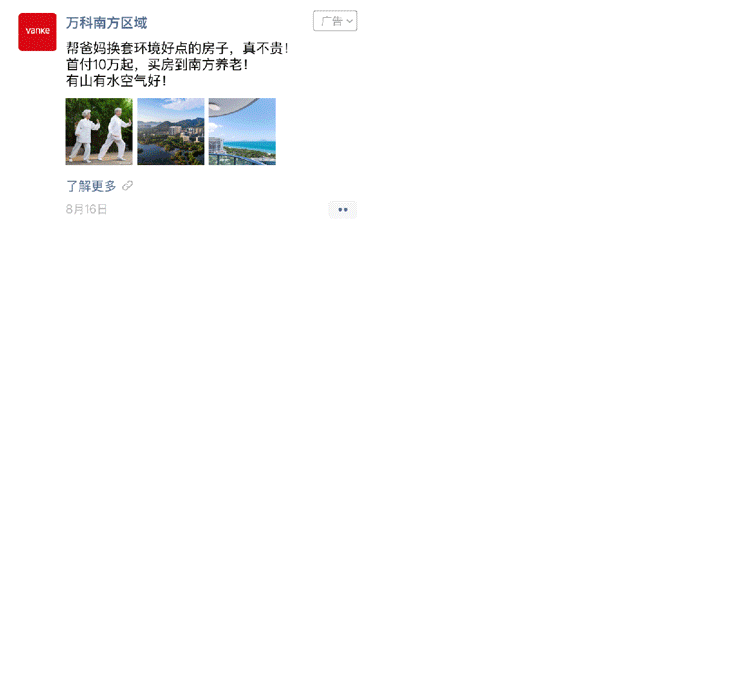 Vanke, a real Estate & property investment company, ran a WeChat ad in its Southern China Region, to targeting people in its four key areas of Shenzhen, and successfully grew direct sign-ups to their open home shows. Their ad materials demonstrated the core selling points of it's offering, such as it's beautiful environment + superior location + price advantage.
Product Promotion
▶ Scenario 1: When a brand has new collection launch or wants to promote hero products, and encourage direct sales through its ads, WeChat ads are supportive in directing users to its online sales page.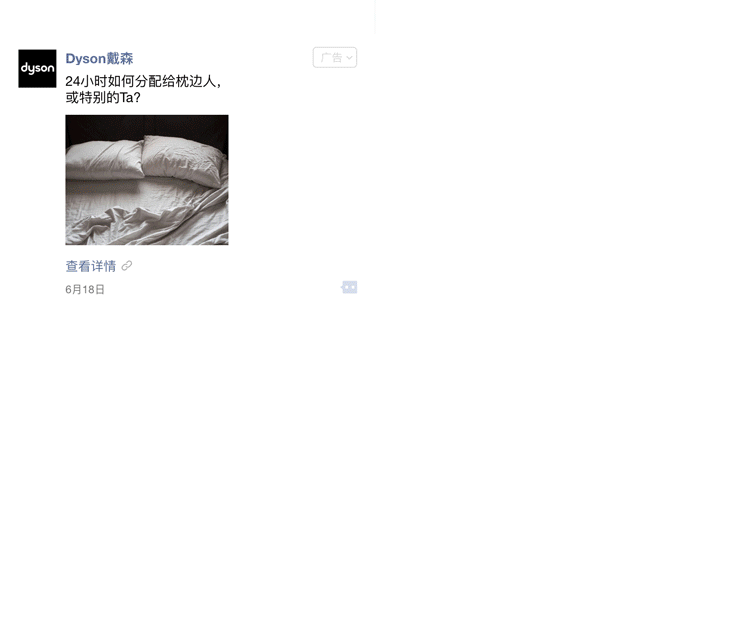 Dyson launched a WeChat campaign during the JD 618 (JD.COM's Annual Mid-Year Sales Festival). In the ad, after entering the details page, users saw a creative video showcasing the product and a link at the bottom of the page linking directly to the JD sales page. This campaign achieved excellent sales conversion performance. The click-through rate to view product details was 5 times higher than the industry average.
▶ Scenario 2: When a brand needs to distribute coupons during a campaign, WeChat ads can offer one-click-get-all-coupons function to increase the conversion.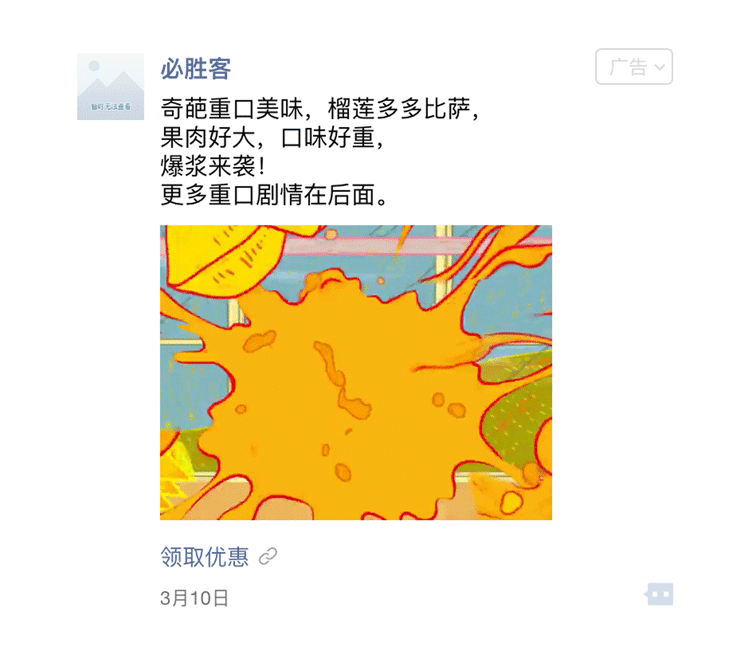 For a new product launch, Pizza Hut chose to promote a 15-second video in WeChat Ad. When users watched the video ad, the brand encouraged users to click on "Get Discount" to quickly get the "RMB 10 off" coupon credited to their WeChat card. The coupon redemption rate performed 8-10 times higher than its other WeChat campaigns.
WeChat ads with good creative content or combined with incentives can increase engagement and exposure. Data research shows that people watch WeChat ads for less than 3 seconds, so strong visual elements and great content is crucial in attracting users in a short period of time. In the future, UMS will also share some examples which demonstrate how to make more creative ad materials.
In the third year in a row, UMS has been granted the certified Tencent Ads Preferred Partner for the international market, and has substantial case studies. To require a copy of UMS' WeChat Ads credential, please leave a message to Cecilia Zhang.
END.