This article was created by Ariel Yan who leads UMS Establish team that provides China consultancy and advisory services. You can contact Ariel via email: ariel.yan@umssocial.com.

As an extension of our China Morning Brief service, I am pleased to share with you the major insights and market trends we have observed over the last month. These are challenging times, but China is gradually recovering, and it is important to share how the market is reacting and driving brands into a new area of sustained growth.
Many trends that we have observed this month have been activated by the lockdown and the increased time that Chinese people have been spending in their homes. As more people return to their normal way of life, we expect to see another shift in online behaviour, presenting new opportunities. Brands should review their marketing strategy and adjust for each stage.
One of the main contributors of brand's success in China is their ability to read the market and quickly pivot their strategy to capitalise on new trends, and this is now more important than ever. During the lockdown, many big brands put their campaigns on hold due to the market's uncertainty, leaving room for smaller brands to pounce on the opportunity and gain brand awareness.
During the lockdown, an overwhelming amount of buzz came from microblogging platform, Sina Weibo, with almost 20 times the buzz number than usual on April 17. The reason behind this unusual spike in activity is that Wenjun BI, a Chinese celebrity, who drives a lot of traffic on social media, posted on Weibo that he has become the new ambassador of Snowberry, a New Zealand skincare brand. The user's sentiment towards BI's Weibo post is 99% positive, garnering a huge increase in brand awareness.
Embrace the digital transition
China's digital consumption continues to rapidly accelerate, continually amplifying the market's desire for innovative and engaging online experiences. It is crucial that brands are aware of this and are adjusting their strategies in order to satisfy customer demand and keep up with competition. China's tourism industry has embraced this challenge, shifting to a digital mindset in order to innovate and offer alternative "online travel" experiences. Tourism operators in China are being advised to use this period to optimise their online systems, improve travel products and conduct internal trainings.
An interesting phenomenon which emerged during the Covid-19 lockdown is "Cloud tourism", which is seeing huge success in China. Cloud tourism allows consumers to participate in tourism experiences from the comfort of their homes for a fraction of the price through either live steaming, articles or augmented reality (AR). Potala Palace in Tibet attracted more than one million viewers to a livestream in under an hour- the same number of visitors they would normally receive in a year.
Brand social responsibility, safety and service will be key to connecting with audiences
E-commerce live streaming has proven to be a successful and popular strategy in reaching consumers and driving short term sales. However, to maintain consumer trust, it is important to sustain consistent communication with your audience, particularly regarding the safety and quality of your product. Choosing the appropriate KOL, paired with an in-depth communication strategy is crucial for long-term survival in China's competitive market.
Meal replacement brand "ffit8" sold more than 3 million products overnight after collaborating with an influencer on Douyin. This shows the power of key opinion leaders and the success of live streaming, even when experts are sceptical over the market's strength. On the other hand, criticism over the safety of ffit8's products have created significant negative sentiment, and with negative buzz growing, this brand must quickly respond to public criticism through PR efforts in order to avoid further negative publicity.
Planning for mid to long-term growth
The increase of online communication provides brands with the opportunity to track potential target audiences' online behaviours, creating the capacity to engage in more precise marketing. By understanding social interests, you can diversify appropriate topics and evolve your strategy.
Take education industry's buzz trend for example. This month's social update was heavily affected by how current overseas students were affected by the covid-19 outbreak in Western countries. Online buzz shows the concern for Chinese students studying in Australia is increasing due to incidents of racism that have recently occurred.
On the other hand, despite concerns over the safety of Chinese students abroad, there is still a lot of interest on overseas education. Specifically, questions such as how to choose major, how to apply to a specific school, and how to update visas are among those which are most frequently asked online.
Education providers need to urgently express sympathy and concern towards existing international students. This is also an excellent opportunity to create "how to" content to help perspective students.
Get full access to the April publications, or subscribe to the China Morning Brief, please reach out to ariel.yan@umssocial.com. Click here to receive a recent copy.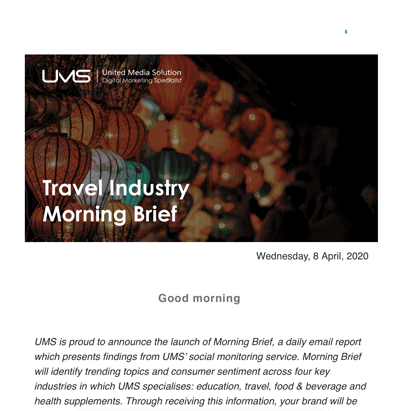 END.