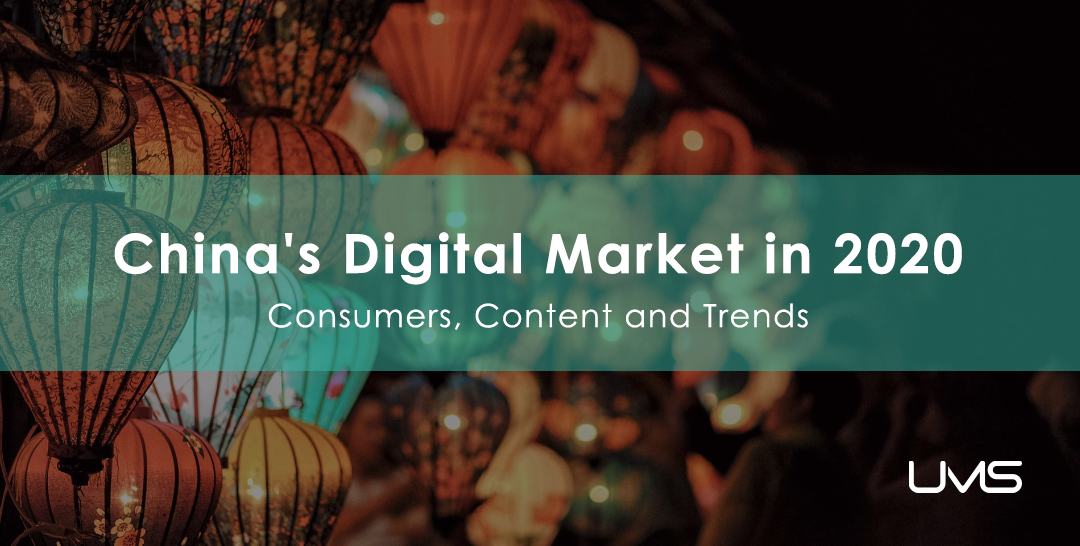 Jessica Miao, CEO of China digital marketing agency, United Media Solution, shares her thoughts on what trends companies can expect in China in 2020 and how they will shape the market.
The recent outbreak of Coronavirus has already had a significant impact on 2020 and its effects on international brands and China's economy are expected to run well into the second quarter. UMS has completed in depth research into how the outbreak will affect marketing activities in China. For further advice and information for brands, read  "Responding to the Coronavirus: Strategic Brand Advice".
Changing Consumers and Content 
Technology is fast developing and consumers, particularly in tier 1 and 2 cities, are leading the demand for innovation and new ways to connect with brands. This is changing how people live, consume information and determines which products they buy and how. Brands are being pushed to continually release innovative new products to meet consumer demand and is thus creating a highly competitive marketplace.
This new way of engaging consumers both on and offline will shape 2020 and make it an exciting year. In line with this, I believe we will also see an increase in short form content such as short videos, live streaming, images and short pieces of written content. Consumers are bombarded with so much online material and they are looking for new ways to absorb information quickly that is to the point and engaging. Short content will be the key for brands to cut through to consumers in 2020.
Due to the now abolished one child policy, China has the largest population of senior citizens in the world, with approximately 128 million people aged over 60 – that's nearly 1 in 10 people. Many Chinese people retire at 55 and are seeking new ways to fill their time. Known as the Silver Generation, after working hard through almost their entire life, this group is looking for new experiences and ways to increase the quality of their lives. Educating themselves on how to live healthier and be comfortable is becoming an important part in their daily life. This group is looking for new ways to engage with brands and learn about technology in e-commerce, or the applications their grandchildren are engaging in. This growing group of Chinese consumer poses as an opportunity for business in 2020 and I expect to see a lot of new innovative products and marketing which is aimed at this demographic.
New Trends on The Horizon
In 2019 we saw a significant increase in consumer demand for health and wellness products, with more Chinese people joining gyms, buying healthy food and paying attention to the ingredients in the products they buy. Linked to this trend is the increasing notion of sustainability and concern for the next generation. Global warming and pressure from Chinese citizens has seen the introduction of recycling, eco initiatives and an increased number of products made with sustainably sourced ingredients. However, many Chinese with concerns over sustainability and the welfare of the next generation are unsure how to react. Much education is therefore needed in this area, posing as an opportunity for businesses to take the lead and be at the forefront of this emerging new trend. Watch this space.
The Challenges
Although China is a highly sought after and lucrative market, businesses are diving in head without taking time to asses and prepare for the challenges they will face. The biggest challenge I see, is the lack of experience businesses have and the belief they can copy and paste the same western strategies into the China market, but this is far from the case. It is crucial that companies complete their research and have a deep understanding of the market and each digital platform before entering China.
Because China trends and technology move at unprecedented speeds, Chinese companies have become adapt in quickly implementing new strategies to keep up with imminent changes. Overseas companies need to react and adapt in the same way in order to capitalize. I would suggest businesses revisit their China strategy every ½ year based on up to date research and consumer insights.
Setting Up for Success 
My advice for companies would be to do a lot of prior analysis and planning before entering the Chinese market. And when you think you have done enough, do some more! China is a hugely diverse and complex market and companies need to understand how they are going to engage with which consumers and through which platforms.
I would recommend talking to a Chinese consultancy like UMS, who will have an immense amount of knowledge and know which strategies are going to work for what business. In addition, China investment needs to be long term and thorough, there is no point doing a "stint" in China. Gaining a good brand presence and loyal customers is going to take time and money, but if done right, the rewards will far outweigh the dollars spent.