To accompany the launch of its new company domains: Engage, Connect and Establish, UMS has created a WeChat mini program which allows for the easy navigation of each team and its offerings, reflecting the expertise of each group. The three domains were established during a recent company restructure to better serve clients no matter what stage they are at in their China journey. For more information on this restructure and the domain leads, read here.
UMS' mini program is designed to be your one-stop-shop for finding the latest news and information from each domain. Each channel provides recent case studies and consumer trends as well as overall industry insights and monthly thought leadership articles. Everyone knows that things move quickly in China, and brands must be on the ball and ready to react. UMS' mini program helps to provide all the right information, when you need it, in an easily navigable layout.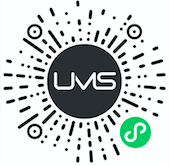 ▲Scan the QR Code with WeChat to find out more information about UMS
END.