United Media Solution enjoyed a strong agency and client presence at the inaugural China International Import Expo (CIIE) in Shanghai this month.
New Zealand Trade Pavilion at CIIE
United Media Solution worked with long standing client New Zealand Trade & Enterprise (NZTE) to create a digital platform for the event. CIIE attendees were invited to scan a QR code and visit NZTE's digital platform where they could learn more about the organisation and the event. The platform included brand and product details about participating New Zealand brands and served as a digital catalogue also providing links to the brands' flagship stores on e-commerce sites such as Tmall and JD.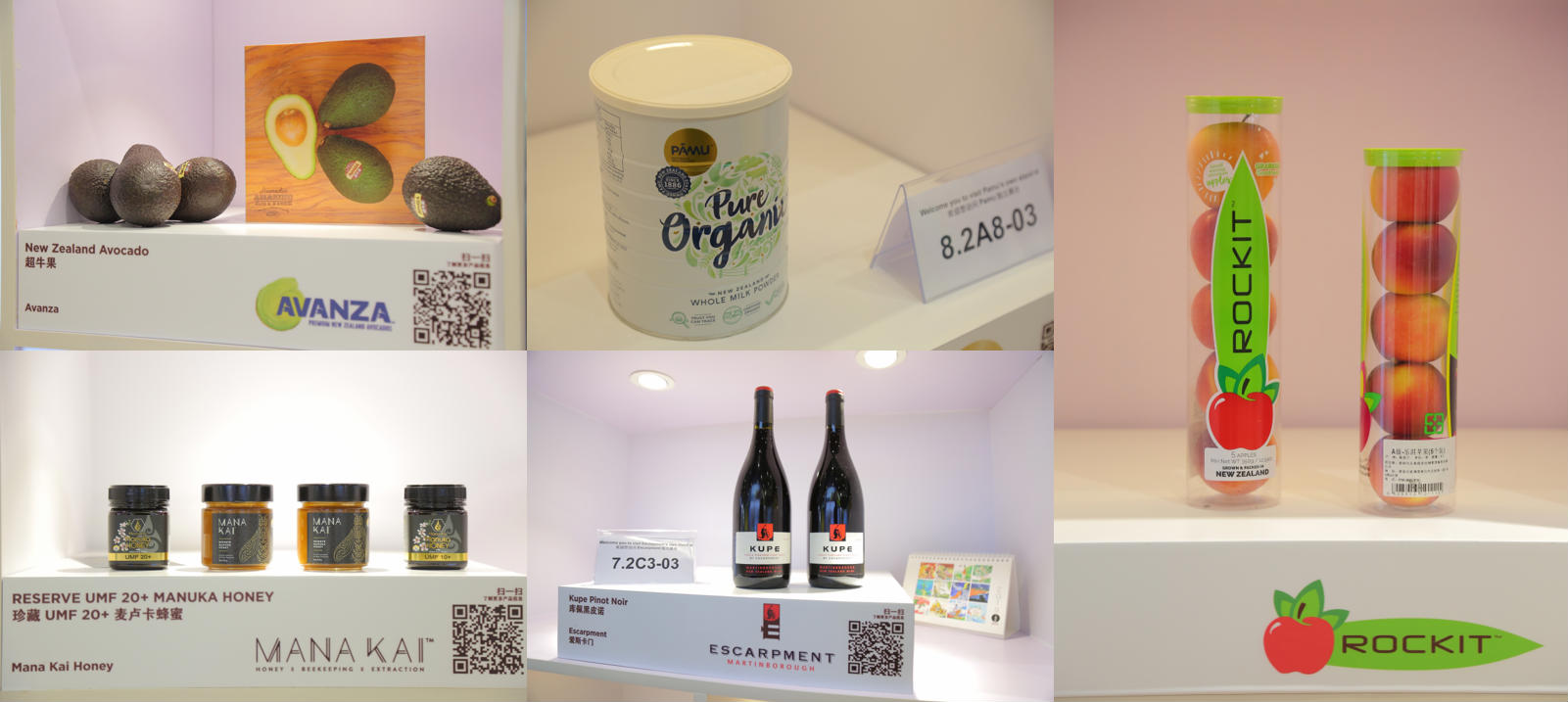 Audience can scan the QR code to receive product information from the CIIE digital platform
NZTE's CIIE digital platform
NZTE's booth at CIIE
New Zealand Avocado live streaming
UMS worked with new client New Zealand Avocado to run a live streaming campaign to promote NZ Avocados to Chinese consumers. The live streaming event was hosted from one of Shanghai's most popular area Xintiandi and was hosted by popular Weibo foodie KOL channel called 'Shanghai Best Food Ranking'.  The event was streamed on leading Chinese social media channels including Weibo and YiZhibo. The event shared information about NZ Avocados including the health benefits such as the good nutrients like vitamin C, folate and potassium. The event also showcased tips to select a ripe avocado as well recipes for cooking with avocados. The live streaming event, which exceeded expectations, can be viewed here: https://www.yizhibo.com/l/B4Ce3H3MG766bU65.html
CIIE Expert Panel
UMS chief executive officer Jessica Miao joined a panel of experts at CIIE to share insights and advice on how food and beverage brands can kick-start their experience in the China market.
Miao joined expert speakers at the event including The Silk Initiative's CEO Andrew Kuiler, Scandic Foods Asia Chairman Per Linden, Capilano Honey Limited International Sales Director Peter McDonald, Papps Tea CEO Martin Papp and the US Consulate General Shanghai Intellectual Property Attache Michael Mangelson.
The event, hosted by UMS strategic alliance partner The Silk Initiative, featured two panel discussions covering brand building in China with the experts providing practical advice and guidance about how to find the right distribution and import partners, how to create a digital activation strategy and how to protect your brand's IP. The event also shared case study experiences from Capilano Honey and Papps Tea exploring how the brands had navigated and found success within the China market.
Miao shared her views on establishing a digital presence in China, maximising your social media investment and most importantly understanding your consumer and their behaviours.
The event was supported by New Zealand Trade & Enterprise, Auscham, UK DIT, and the Victoria State Government.
(Left to right are:Per Linden, Jessica Miao, Michael Mangelson, Kirsten Olson)