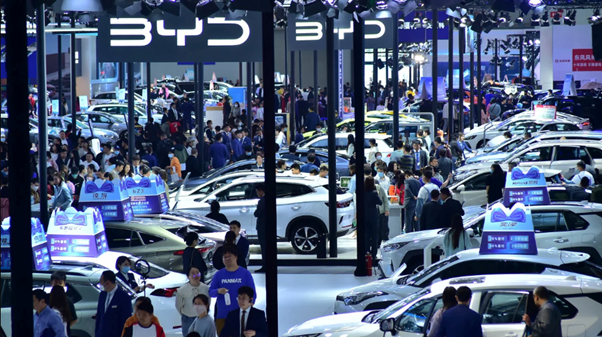 Photo Caption: BYD's booth at the 2023 Shenyang International Auto Show on May 3, 2023, CNN
As the world faces increasing environmental challenges and concerns, consumers everywhere are changing their buying patterns. In China, a rapidly growing middle class are adopting eco-friendly and sustainable products, including electric vehicles (EVs). Even for brands not selling cars, it is useful to understand that Chinese consumers are becoming more eco-conscious and aware, influencing their purchasing behaviour across various industries. This article explores the rise in popularity of electric vehicles as one of our top China Consumer Trends in 2023.
RISING AWARENESS
The rapid economic growth in China over the past few decades has led to a significant increase in the country's middle class. This demographic is becoming increasingly aware of the environmental impact of their consumption habits and is seeking out eco-friendly and sustainable products to use at home, and this is extending into their consideration of electric vehicles, both as a status symbol and an environmental statement.
Following the 20th National Congress's proposal to promote green consumption and establish a low-carbon lifestyle and the inclusion of electric vehicle charging infrastructure in the current Five Year Plan, Chinese consumers have increasingly incorporated sustainability into their consumption patterns, and many are willing to pay a premium for green products[1].
LOCAL MARKET
In the past, Chinese consumers have had a strong preference for foreign car brands. However, this trend is changing as domestic automakers like BYD, Nio, and Li Auto gain traction in the EV market. The local manufacturing of Tesla vehicles in China started in Shanghai in 2018 and triggered significant investment in local manufacturing[2].
China's auto market, the largest globally, is steadily transitioning towards electric vehicles. Sales are up 23% compared to last year, with a total of 1.3 million electric vehicles compared to 750,000 sold in the United States[3]. The popularity of Tesla has waned, and Chinese brands now command key vehicle segments in China, resulting from a surge in electric vehicles both locally and internationally​[4].
COST ADVANTAGES
Both electricity and fuel prices have risen due to economic and geopolitical disruption in Europe and much of the world over the last few years, which, along with other inflation factors, is slowing the demand for new vehicle sales. However, in China, electricity prices are comparatively lower, which has supported the demand for new EVs[5].
SALES GROWTH
Cheaper electricity, supportive government policies for expanding charging infrastructure, and the focus on "Made in China 2025" have led to a significant rise in EV sales in China. Although there was a 13% drop in passenger car sales in the first quarter of 2023 overall, EV sales rose 23% and 31% of the 4.269 million vehicles sold in Q1 2023 were either EVs or PHEVs​[6].
Additionally, the success of domestic automaker BYD has helped to fuel momentum. The company is the highest-selling EV brand and offers vehicles at a range of price points. It has now gained 36.4% market share, with Tesla coming second at 10%[7]. BYD has tripled its sales in recent years and now holds the top spot, with an 11.35% share of the overall car market, ahead of VW and Toyota which are still focused on petrol-engine vehicles.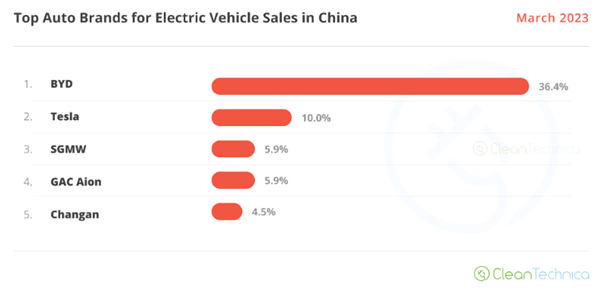 WORLDWIDE ADOPTION
China's adoption of electric vehicles is reflective of a global trend, with sales taking off in 2020[8]. Internal combustion vehicles have a significantly more complex supply chain that was impacted during the pandemic and struggled to catch up to the logistics disruptions and labour shortages. At one point, the waiting time for a new Toyota Hybrid was 18 months in Australia[9]. Plug In EVs with simple mechanical internals and automated manufacturing were completed faster and experienced strong sales growth[10].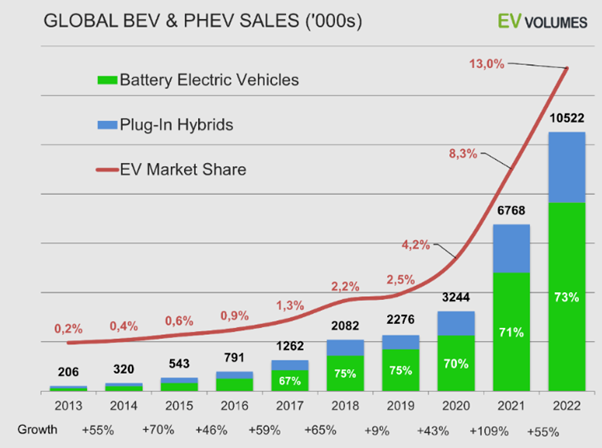 Looking back over the past 10 years the scale of the growth is striking, with a total of 3.5 million electric vehicles sold in China in 2021, out of 6.8 million vehicles globally. As China continues to lead in this space, it will soon begin exporting larger numbers of vehicles into the United States to satisfy the middle-class market that doesn't require the premium Tesla options[11].
CONCLUSION
For brands targeting the China market, understanding the growing eco-conscious appetite among Chinese consumers is critical. This awareness is not limited to the automotive industry but extends to other sectors as well. As the middle class becomes increasingly eco-conscious, brands need to adapt their strategies to cater to this growing demographic.
The shift towards electric vehicles in China is part of a broader global trend towards sustainable consumption.Brands should be prepared to adapt to these changes and position themselves as environmentally responsible companies, regardless of the industry they operate in. Collaboration with over 200 Chinese EV makers could provide excellent consumer engagement opportunities.
Check out what other trends we expect to see develop further in 2023 here
For more examples of vehicles soon to hit the China market, check out this link from the Shanghai Auto Show in April.
https://www.scmp.com/business/companies/article/3217550/shanghai-auto-show-byds-crab-walking-car-nissans-holographic-wheels-and-all-glass-roof-its-all
Additional summary of the two Sessions in March 2023 regarding Green Development in China:https://greenfdc.org/chinas-two-sessions-of-2023-trend-for-green-development-green-finance-and-belt-and-road-initiative-bri
Check out what other trends we expect to see develop further in 2023 here.
We will also soon be publishing our 2023 Chinese Social Media Platform Guide which will help brands navigate China's diverse social media landscape. Contact guy.thompson@umssocial.com if you would like to be notified when it is released.
[1] Deloitte, 2023 China Consumer Insight and Market Outlook, March 2023
https://www2.deloitte.com/cn/en/pages/consumer-business/articles/consumer-insight-2023.html
[2] Associated Press, Chinese electric vehicle brands expand to global markets, May 2023
https://apnews.com/article/china-electric-car-ev-technology-byd-c7fda57fb0f761c637a71f9f9e7d8b67
[3] Inside EVs – US: All-Electric Car Sales Surged In January, March 2023
https://insideevs.com/news/657660/us-electric-car-sales-january2023
[4] Reuters China's electric car drive, led by BYD, leaves global brands behind
https://www.reuters.com/business/autos-transportation/chinas-electric-car-drive-led-by-byd-leaves-global-brands-behind-2023-04-17/
[5] Economist High Running Costs Risks (International) Shift to EVs, May 2023
https://www.eiu.com/n/high-running-cost-risks-shift-to-evs/
[6] Top-selling cars in Q1 2023 in China, April 2023
https://carnewschina.com/2023/04/12/top-selling-cars-in-q1-2023-byd-first/
[7] CleanTechnica, March 2023 Sales Report, May 2023
[8] World Economic Forum, Electric vehicle sales leapt 55% in 2022, May 2023
https://www.weforum.org/agenda/2023/05/electric-vehicles-ev-sales-growth-2022/
[9] CarsGuide – Extended Wait Times for Toyota, Jul 2022
https://www.carsguide.com.au/car-news/is-toyota-too-popular-for-its-own-good-why-extended-wait-times-for-the-rav4-hilux-camry
[10] World Economic Forum, Electric vehicle sales leapt 55% in 2022, May 2023
https://www.weforum.org/agenda/2023/05/electric-vehicles-ev-sales-growth-2022/
[11] Business Insider, Cheap Chinese EVs are coming
https://www.businessinsider.com/cheap-chinese-electric-cars-will-upend-the-us-vehicle-market-2023-5