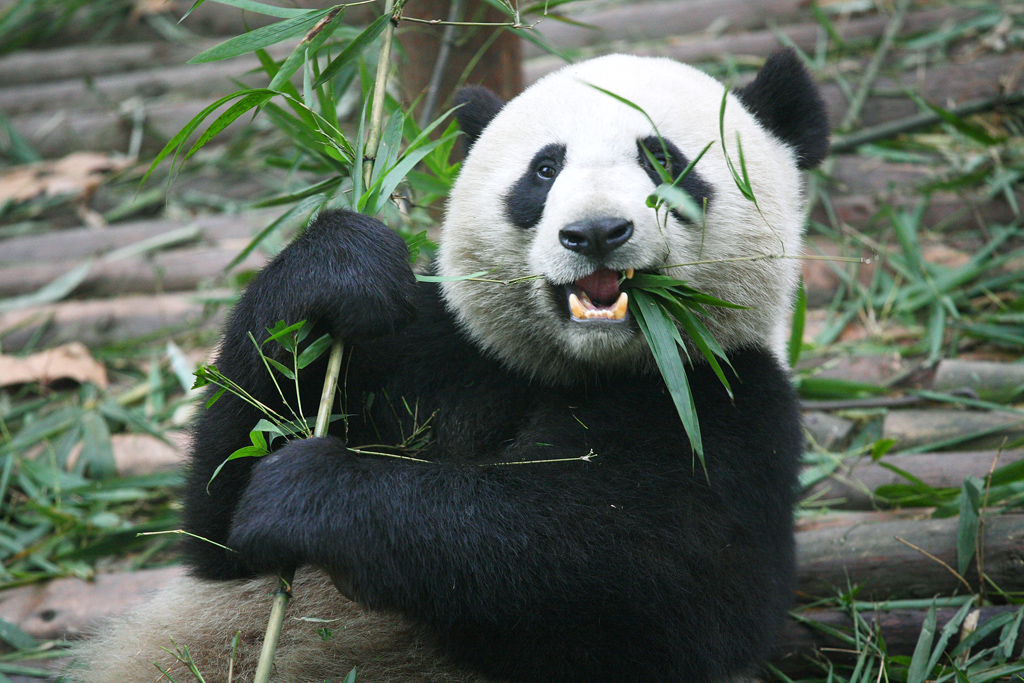 (Image Source: Wikimedia Commons – Chen Wu)
Sustainability has become a regular part of Western marketing vocabulary and consumers now hold brands to a much higher level, and expect them to take appropriate steps to protect the environment and support social causes. In China, awareness and support of sustainability (and ESG) has now increased significantly following the Government's pledge to reduce emissions and its acknowledgement that environmental degradation could impact long-term economic growth.
Positioning your brand
A 2022 study found that 50% of Chinese consumers did not trust sustainability claims.
Millennial and Gen Z consumers, who have the best access to information on their purchases, are driving the consumption of sustainability in China. They will be the future of sustainable consumption and will be more vocal to calling out inauthentic brand claims. If an audience will not simply accept claims on face value, brands must have a good engagement strategy.
A strong brand story is important to Chinese consumers, and many, particularly younger consumers, will buy products from brands that align with their values and do good for the community. 17-19% of consumers in a recent study boycotted a brand or store due to its substandard sustainability policy. Lack of commitment to ESG during early brand building can hurt an organisation's ability to relate with consumers, so it is important to have these strategies in place early and clearly communicate initiatives and their outcomes.
Alipay, China's leading mobile payment platform has been engaging users to actively participate and contribute to its ESG strategy through Alipay Ant Forest. Their dedicated app, launched in 2016, rewards users with "green energy points" every time they do something to reduce emissions, such as buying sustainable products, biking to work or recycling. These points grow a virtual tree on their app which Alipay matches by planting a real tree in collaboration with local NGOs.
Since its launch, the campaign has attracted over 500 million users, planted 100 million real trees in Northwest China, and protected a total area of 12,000 hectares of conservation land. This is an excellent example of how brands can take their customers on a journey of sustainability while allowing them to make a direct contribution.
A top-down approach to sustainability
Already the largest exporter of plastics in the world, China is already halfway to reaching its goal of banning single-use plastics across the country by 2025. This policy has come hand in hand with increased promotion of recycling and green packaging to help control its overflowing landfills, some as large as 100 football fields.
In 2019, China announced that Shanghai would be the first city to introduce garbage sorting in a nationwide push to raise the rate of recycling, which stood at under 20%. The new recycling regime introduced a colour-coded system and was supported by 30,000 volunteers to assist the public and an app provided by the city answers queries about specific items. Four years on and the world's largest wet waste recycling centre is taking place in Shanghai, expected to handle 4,500 tons of wet waste a day. The local government expects the city's household waste recycling rate to reach 43% by the end of 2023. In September 2020, it was announced that  China will "aim to have CO2 emissions peak before 2030 and achieve carbon neutrality before 2060".
Mass media and China's progress in enhancing environmental education and awareness have greatly contributed to public awareness of climate change. Many now strongly support domestic policies and international cooperation to help tackle the issue. Social media sites such as Weibo have played a significant role in gathering support for sustainability and climate change action. It is not uncommon for Chinese netizens to call out organisations that are negatively impacting the environment and demand action.
Now that people in China understand that addressing climate change requires concrete action with everyone's participation, their willingness to pay more for environmentally and climate-friendly products and adjust their lifestyle has greatly increased. A 2022 study found that approximately two-thirds of the respondents in China stated that they were willing to pay more for sustainable and environmentally friendly products. A recent survey by McKinsey found that Chinese tourism consumers had higher concern about climate change than American, German and Australian.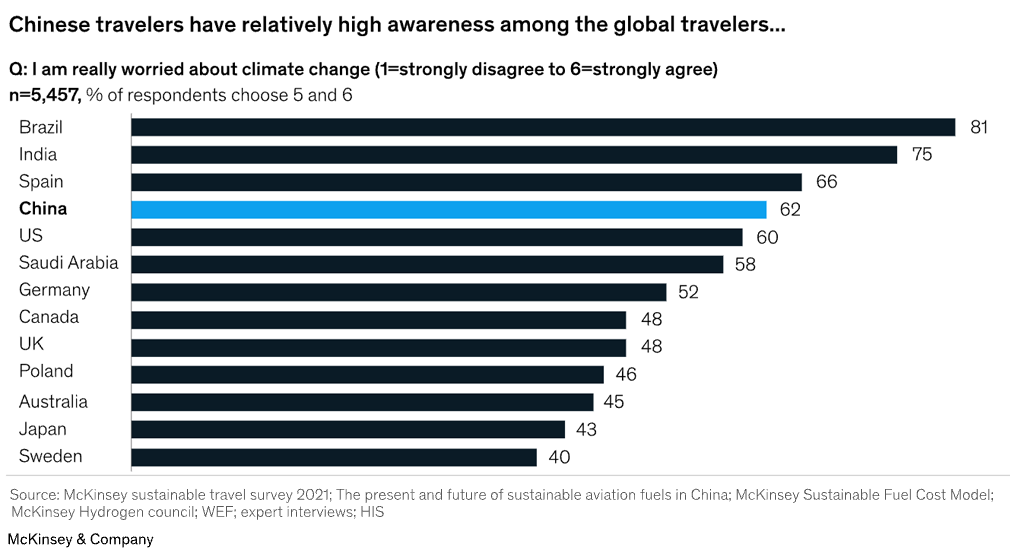 Green consumption 
Following the 20th National Congress's proposal to promote green consumption and establish a low-carbon lifestyle and the inclusion of electric vehicle charging infrastructure in the current Five Year Plan, Chinese consumers have increasingly incorporated sustainability into their consumption patterns, and many are willing to pay a premium for green products.
The rapidly growing middle-class are becoming increasingly aware of the environmental impact of their consumption habits and are seeking out eco-friendly and sustainable products to use at home, including purchases like electric vehicles which are up 23% compared to last year.
"Low-carbon" has become a buzzword for consumers, and products like bamboo tableware, plant-based meat, biodegradable plastic and "carbon-neutral coffee" are gaining support from consumers looking to reduce their mark on the planet. In a 2022 study, 80% said they would be willing to pay more for delivery if CO2-neutral shipping were guaranteed in return and 40% indicated minimal packaging waste was an important delivery criterion. However, free and fast shipping and free return shipping are far higher up the priority list.
Back to nature
Along with an increased understanding of sustainability and climate change, is a growing appreciation for the outdoors and the desire to protect it. During the May Day national holiday when domestic travel reopened, many travelled to parks and the countryside rather than busy tourist sites crammed with people. At these destinations, visitors discovered the beauty and tranquillity of unspoiled nature and shared it online for others to see. This, paired with a number of other factors such as the desire to escape city living, has meant more want to return to the outdoors to refresh, reassess, and renew oneself.
Experiences that allow people to reconnect with nature, such as guided hikes, glamping and fishing experiences are becoming very popular, along with all the equipment needed for the experience. On the first day of the May 1st holiday, search volume for "camping" increased by 90% while ticket sales for parks with campsites grew by over 50% year on year.
Fishing has also increased in popularity – it is no longer just a pastime for older males but has now become a lifestyle statement for many young Chinese. On Little Red Book, posts on fishing have doubled since last year with posts about lure fishing (in rivers and lakes) becoming the most popular. For Chinese millennials and Gen Z, fishing can provide an opportunity to escape the hustle and bustle of city living and escape to nature with a practical activity to share with friends.
For more information on the rise of outdoor activities in China, read our trend piece here. Check out what other trends we expect to see develop further during 2023 here.
End.