The pursuit of outdoor activities has quickly become one of the hottest trends in China's market, and the good news is, it looks like it's here to stay. Driven by lockdowns, closed borders and the Government's focus on developing outdoor recreation, outdoor activities such as camping, fishing, hiking and sports have dramatically increased in popularity over the past 6 months.
Throughout the pandemic, many Chinese looked to their own backyard for travel, opting for local campgrounds and parks during weekends and holidays. Thanks to the accessibility of rural and suburban areas from large cities, camping and short-haul trips have become the go-to for many Chinese households looking for a breath of fresh air.
More than 70% of bookings for scenic spots in the last year came from nearby areas, and more than 80% of bookings for hotels, tickets, and entertainment, were made one to two days prior to the trip. This signals the rise in popularity of "short-haul" and last-minute weekend breaks, which is good news for tourism companies seeking to capitalize on more consumption opportunities, and require constant marketing messaging to consumers to increase awareness.
Camping has seen the most growth in interest. Online sales of outdoor and camping equipment sales increased steadily from 2021 to 2022 with sales of winter sports gear rising over 300%.
The overall market of Sports and Outdoor looks set to be worth US $29.8bn this year, and set to grow at 9.1% annually out to 2027 with around 32.2% of consumers purchasing products.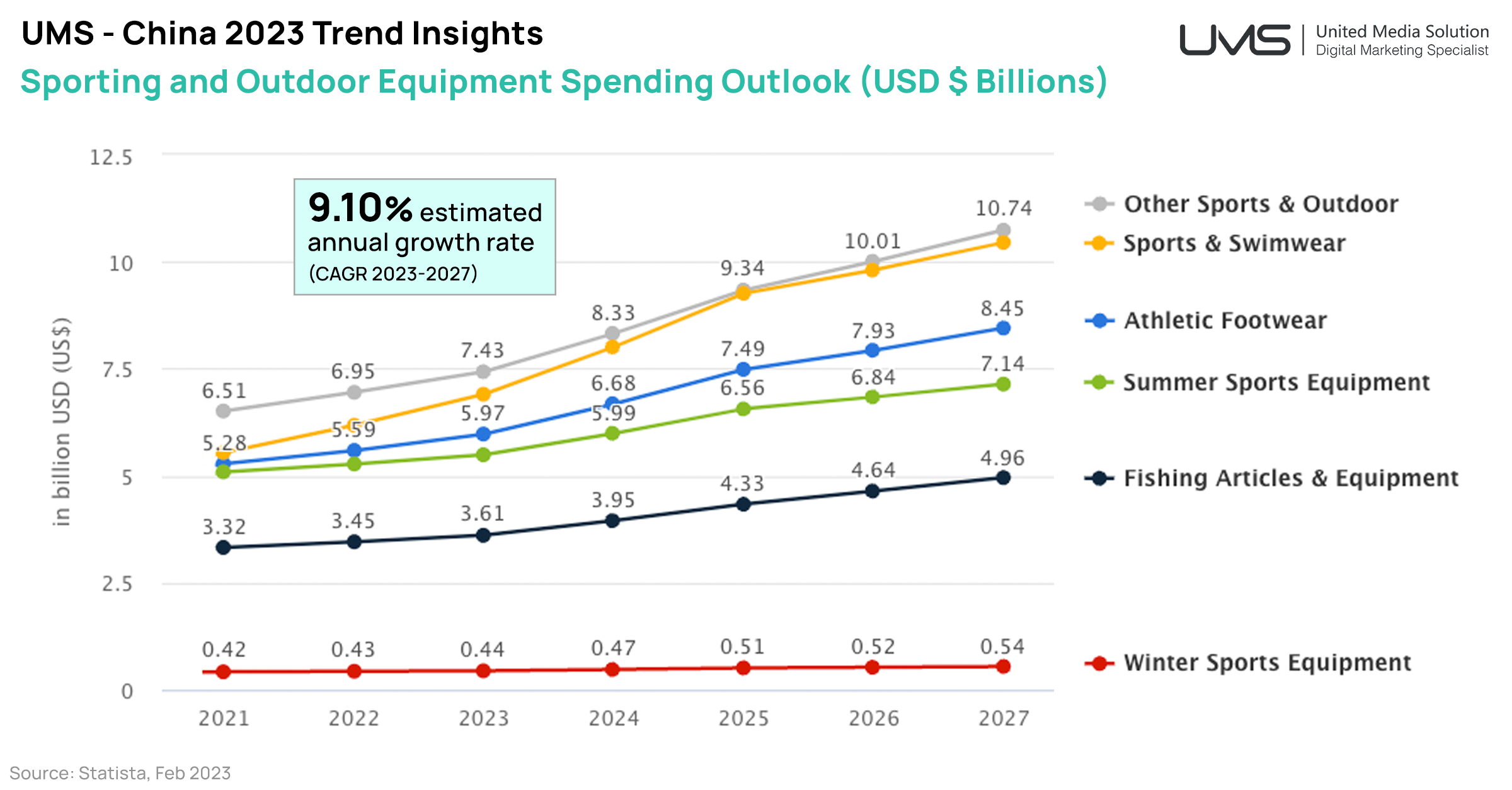 Urban workers seeking a more tranquil getaway are opting for "glamping" experiences and ways to reconnect with nature without giving up the comforts of modern life. This trend has resulted in a sudden surge of high-end camping equipment like pre-set tents and portable coffee makers, and outdoor entertainment.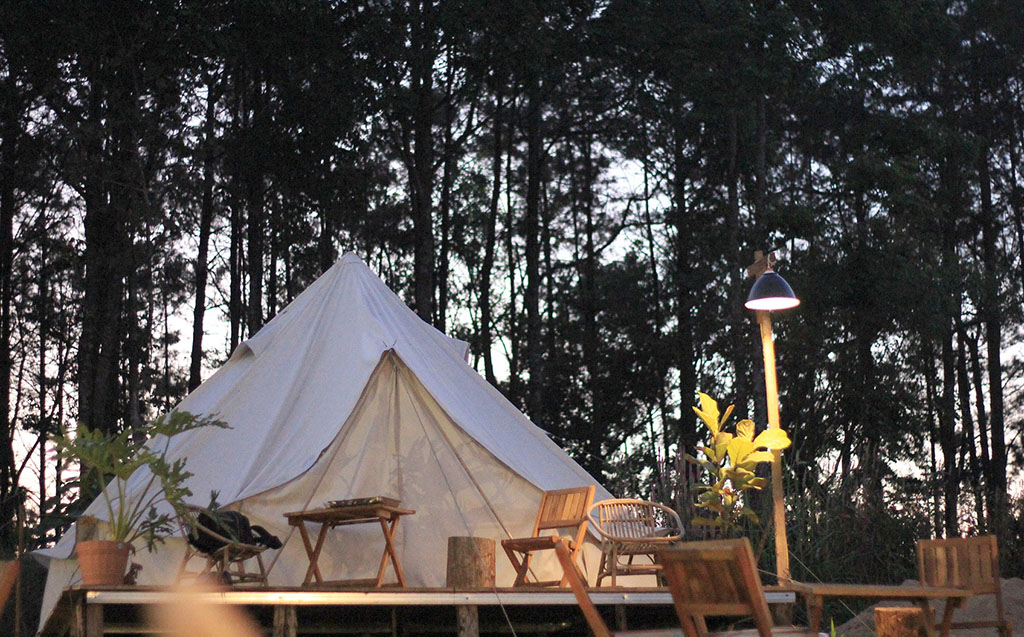 Many glamping experiences are offered as "full-service" packages where the tents and seating already set up with everything needed for a relaxing getaway. Glamping locations are often situated in suburban parks as well, meaning households don't have to travel too far from home for a short retreat.
Hiking with enough camping equipment to set up overnight or for longer stays is more uncommon, however there is still significant interest, especially from young men that are camping with groups of friends. Some are also using the opportunity to try fishing. Lure fishing in rivers and lakes is becoming more popular. Seafood is an essential part of food culture in China, and young people are enjoying connecting with the history of aquaculture in China.
Chinese Gen Z is hooked on Fishing:
The government also has a focus on revitalizing rural areas to balance the rural-urban economic divide. Enhancing tourism in these areas will bring additional employment and economic stimulus to regions. The 14th Five Year Plan also has a dedicated section on developing outdoor activities, including winter sports, mountain sports, water sports, driving and motorcycling, air sports, cycling, marathons, and triathlons.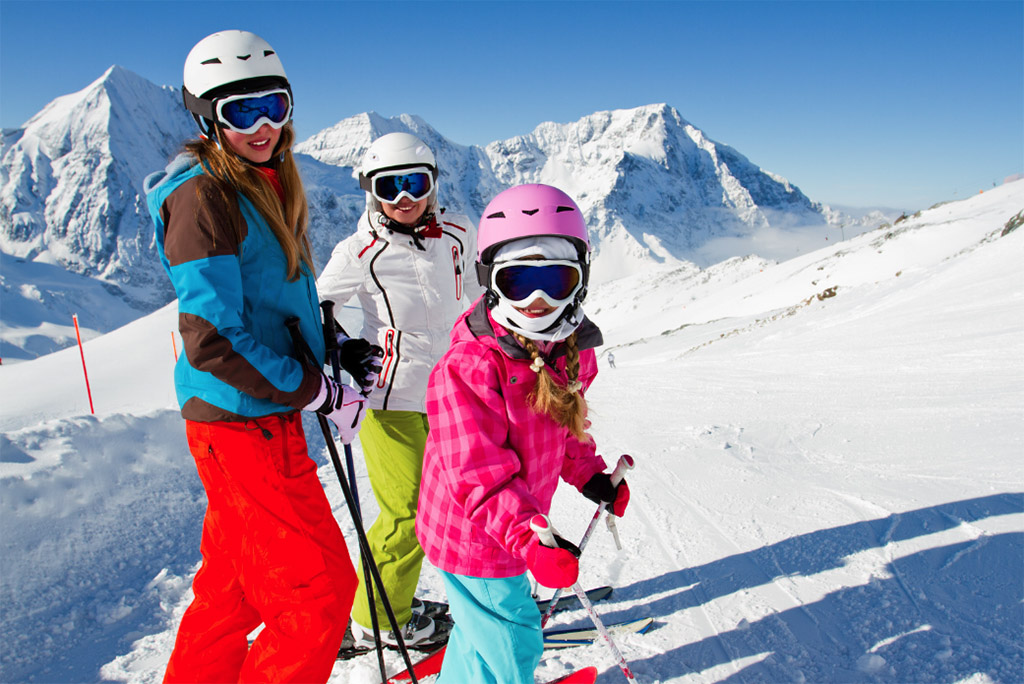 Middle-class Chinese emerging from the pandemic with the flexibility and funds to enjoy weekend outdoor activities are likely to gain confidence with short local trips on weekends. This group will then slowly begin traveling further across the country for longer trips. International travel is beginning to pick up, however it will take some time to return to 2019 levels.
The tourists that return back to international destinations after many years away, are likely to have different interests and preferences regarding outdoor activities.
The interests and preferences of Chinese tourists heading overseas after the pandemic will have changed in a variety of ways. We'll be diving into this in upcoming research regarding Chinese domestic and international tourism. We're also covering the key platforms they will be sharing their experiences on in our upcoming 2023 Social Media Platform Guide. Get in touch with us if you'd like a copy.
Check out what other trends we expect to see develop further in 2023
here. 
We will also soon be publishing our
2023
Chinese Social Media Platform Guide
which will help brands navigate China's diverse social media landscape. Contact
guy.thompson@umssocial.com
 if you would like to be notified when it is released.