The concept of "revenge spending" has been making headlines recently in China as the country emerges from the pandemic after years of restrictions. After so much time spent indoors, many Chinese consumers are eager to spend on entertainment, travel, and luxury items.
During the first two months of 2023, spending has bounced back across a range of categories. Citizens have finally felt comfortable picking up medicines in person and are stocking up, seeing a rise in spending of 19.3%. Domestic travel is open again, seeing an increase of 10.9% in petroleum fuel and related products. Tobacco, liquor, and jewellery along with clothing are all up more than 5%.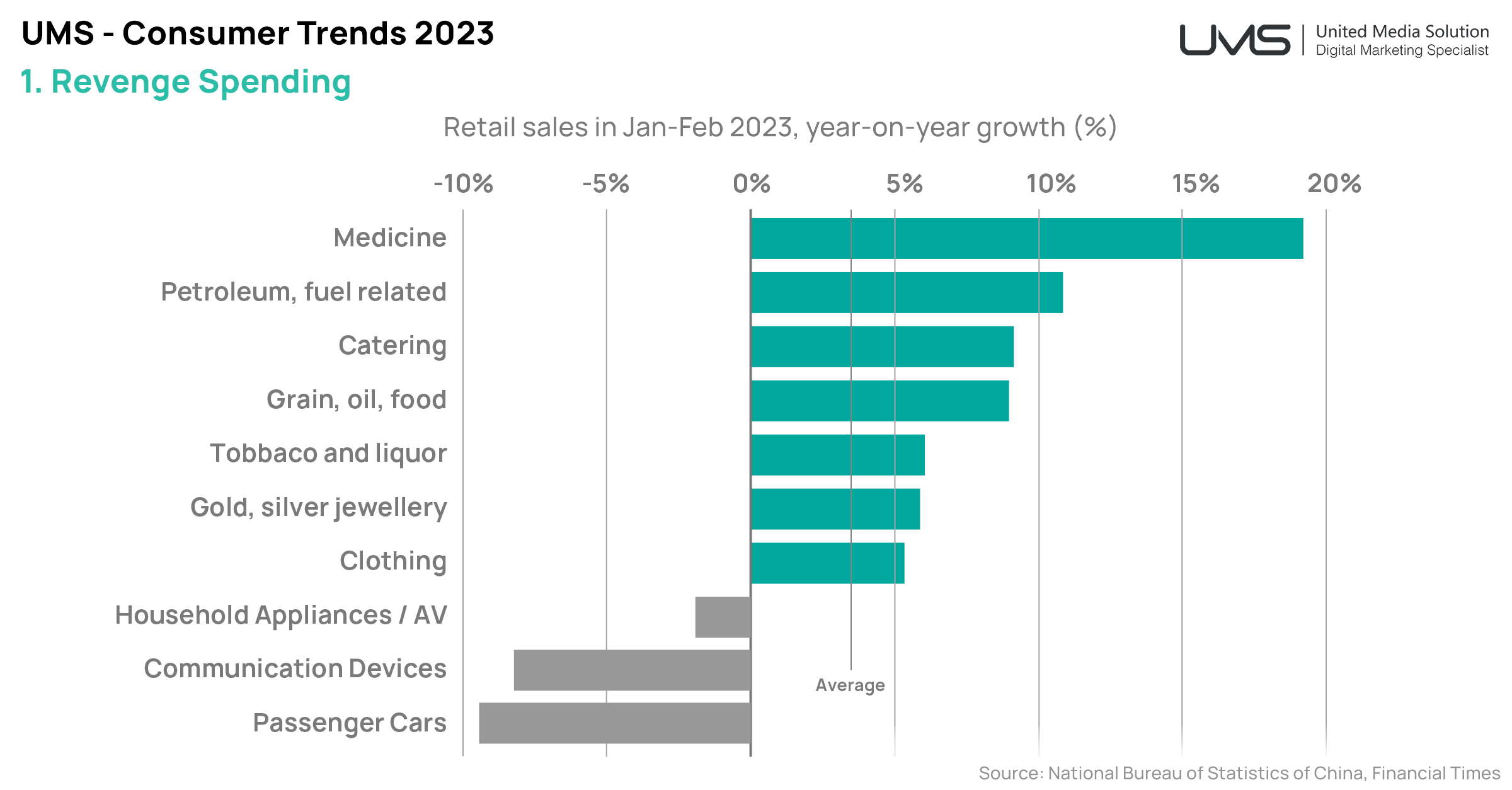 However, more significant purchases are still taking time to pick up, with sales of cars, new mobile phones and household appliances including audio-visual equipment, still significantly down year on year. Increases in the sales of these categories will be a key indicator in the overall confidence of the retail sector and will likely flow into spending on international travel bookings as consumers build their confidence with domestic travel throughout the year.
Consumption is key to driving the country's economic growth post-lockdown, and the Spring Festival couldn't have arrived at a better time. $56 billion was spent by more than 300 million travellers during the Chinese New Year, 30% more than 2022. On popular shopping site JD.com, sales increased by 90% compared to the same period last year. Payment platforms WeChat Pay and Alipay, each reported a 20% yearly increase in transactions. Meanwhile, businesses that took a hit during the pandemic like restaurants, cinemas and tourism welcomed a strong rebound in demand during the Spring Festival holidays.
Chinese households saved an estimated $2.6 trillion of bank deposits during 2022, up 80% from 2021, which is equal to one thirds of a household's total income. For comparison, prior to the pandemic, it was normal for people to save one fifth of their income.
6 months before restrictions were dropped, the term "revenge spending" (报复性消费) was mentioned around 3.5 million times on Chinese social media platforms, showing people's desire to spend their money on experiences and products that were unavailable during isolation.
The revenge spending trend in China represents a significant opportunity for local and international businesses. Luxury brands, in particular, such as Richemont and Burberry have seen a surge in sales as Chinese consumers look to indulge in high-end products.
Key malls like Shanghai's Plaza 66 attracted long queues outside Chanel, LV and Hermès. The LV store's total revenue reportedly reached 10 million RMB ($1.48 million) a day during the Spring Festival.
Reports from the UMS team on the ground in China also indicate that things are returning to normal, traffic jams are lining the streets, people are coming back into the office and malls are steadily filling up with keen shoppers once again.
However, although China's household savings during the pandemic topped those in other Western nations, it is expected that the scale of revenge spending in China may still be modest as consumers gain confidence. The spending will mostly be driven by the growing middle and upper-class markets, while those who have struggled during the pandemic will likely remain conservative with their funds. It is expected that household consumption will rebound to 9.5% in 2023 from about 3% in 2022, fuelling annual GDP growth of more than 5%.
Either way, consumer spending is something marketers are going to want to keep a close eye on in the first half of 2023 as it will indicate the rate of China's financial recovery. UMS will continue to monitor what markets are bouncing back fastest and how businesses engage with this reenergized market.
Check out what other trends we expect to see develop further in 2023
here. 
We will also soon be publishing our
2023
Chinese Social Media Platform Guide
which will help brands navigate China's diverse social media landscape. Contact
guy.thompson@umssocial.com
 if you would like to be notified when it is released.