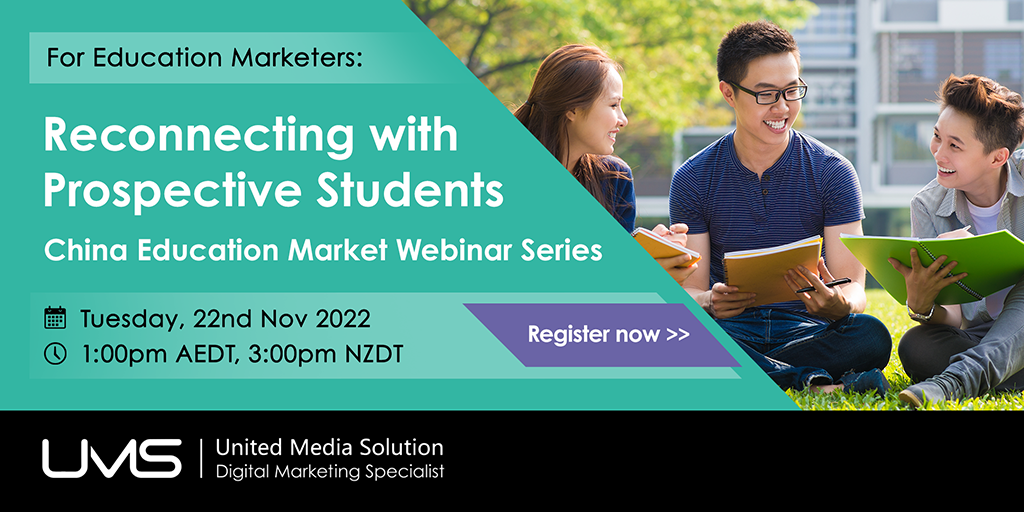 Join our UMS team for this exclusive webinar, where we reveal key insights to help position your higher education brand for increased consideration on a wide range of digital platforms in China.
Register for this Webinar to:
Hear directly from students during a panel discussion regarding their changes to appetite, priorities, and considerations and that of their parents, along with changes to their digital research behaviour.

Specific ways they use and respond to content on different platforms as they research international education destinations, including WeChat, Bilibili, Little Red Book, along with University websites in Chinese and English.
Join us and re-capture the wave of Chinese students that are busy researching their international study options for 2023 and beyond.
Registration link: https://zoom.us/webinar/register/WN_ObOZti8DRhS67k8A50GhGw (copy and past the link in your browser or "read more" to register).
Presenters: Eric Yu, Co-CEO UMS.
Please contact: eric.yu@umssocial.com
END.