Throughout the pandemic in China, food deliveries became a lifeline for many, especially small restaurants where deliveries enabled them to operate. Over time, consumers have gradually shifted their buying habits toward pre-prepared or ready-made meal options that better suits their lifestyle. Now, as life gets busier post-lockdown, the demand for convenient at-home meals with minimal cooking time continues to rise. This trend is mirrored in the international market, where ready-to-eat meals are growing at around 10% annually[1].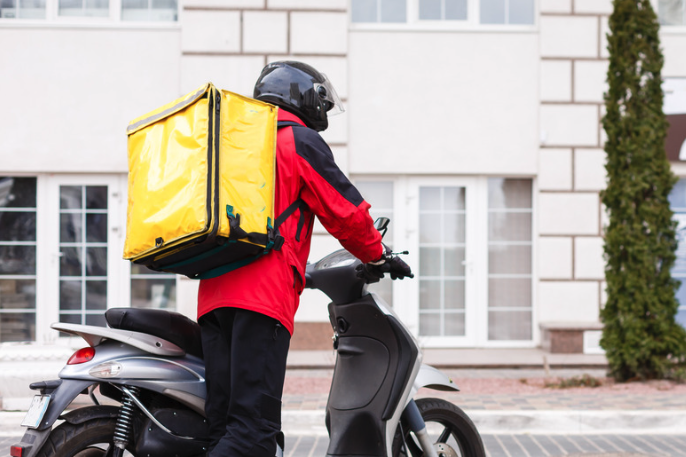 CONVENIENCE DELIVERED
During the pandemic, meal delivery services were sometimes the only way for residents to get food, and its convenience was quickly realised by many. Following the pandemic many are still engaging in food deliveries but are getting value for money by ordering 6+ meals at once to save on delivery costs. In Asia, input costs for food production including factory costs, labor and supplies are lower, and delivery by gig workers on scooters in urban areas is very common. These factors have helped keep prices reasonable to support growth, combined with busy professionals and families that are still willing to absorb higher prices and pay a premium convenience.
INDUSTRY GROWTH
China's ready-made meals market is currently worth over $60 billion annually[2] and is predicted to surpass US $148 billion in annual sales within the next six to seven years, with a compound annual growth rate of around 20%[3]. Globally the frozen food market is growing at 5.2% and is set to reach $553 billion by 2023, almost double the level from 2021[4]. A large portion of that frozen food is the meat required to manufacture ready-to-eat and pre-prepared meals.
Leading ready-meal manufacturers in China have experienced a steady growth in sales, and e-commerce grocery platforms like Freshippo, Missfresh and Meituan Maicai have increased their investments in the production and distribution of ready-meals and pre-prepared meal kits. Around 35% of ready-to-eat meals are currently purchased online, and 65% are still purchased through offline channels in China's massive supermarket distribution network[5].
NASDAQ listed Chinese e-commerce platform Missfresh expanded into ready-made and pre-prepared food deliveries 2020. Some of their bestsellers come from popular chain restaurants like Xibei Group and Meizhou Dongpo[6]. On the JD.com online supermarket, the sales of ready-to-eat meals grew over 120% in the past three years[7].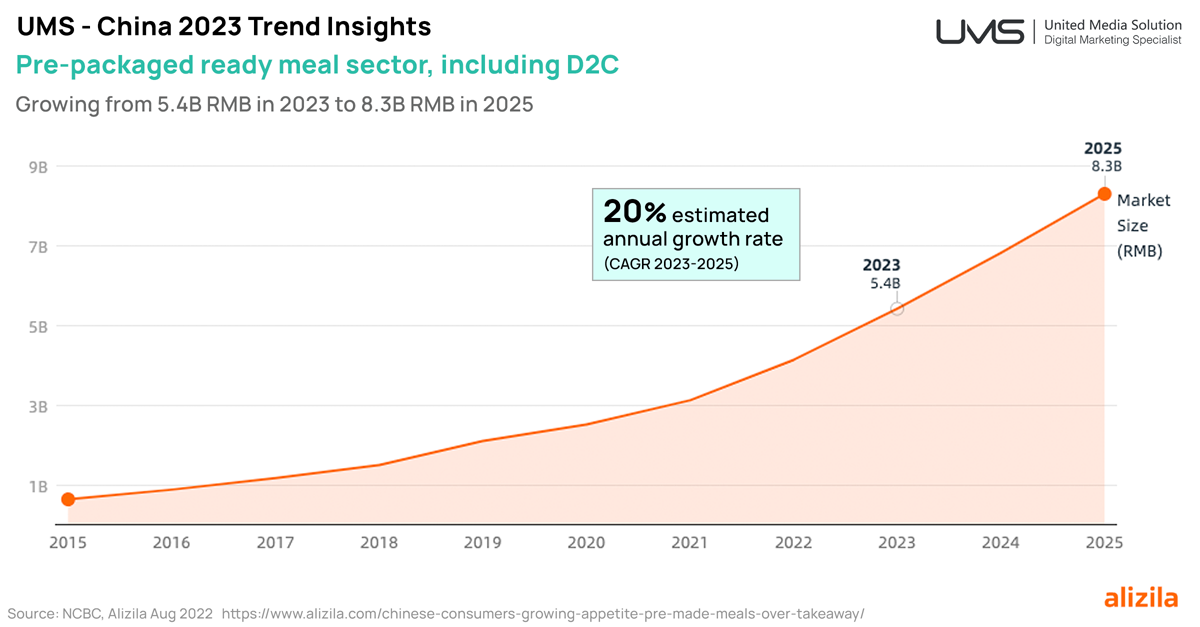 BUSY LIFESTYLES, HIGHER EXPECTATIONS
In the West, busy professionals often meal prep several meals at once during weekends and eat them for lunch or dinner throughout the week. This helps people avoid takeout and convenience options while achieving a higher nutritional value per serve with meals containing more protein and vegetables – the two most expensive ingredients for cafes and restaurants to include in individual dishes. This has influenced buyer behaviour from consumers that are looking for the same high-quality ingredients in ready-made, pre-prepared and frozen food. Poor-quality mass-produced TV dinners no longer meet consumer expectations in the West.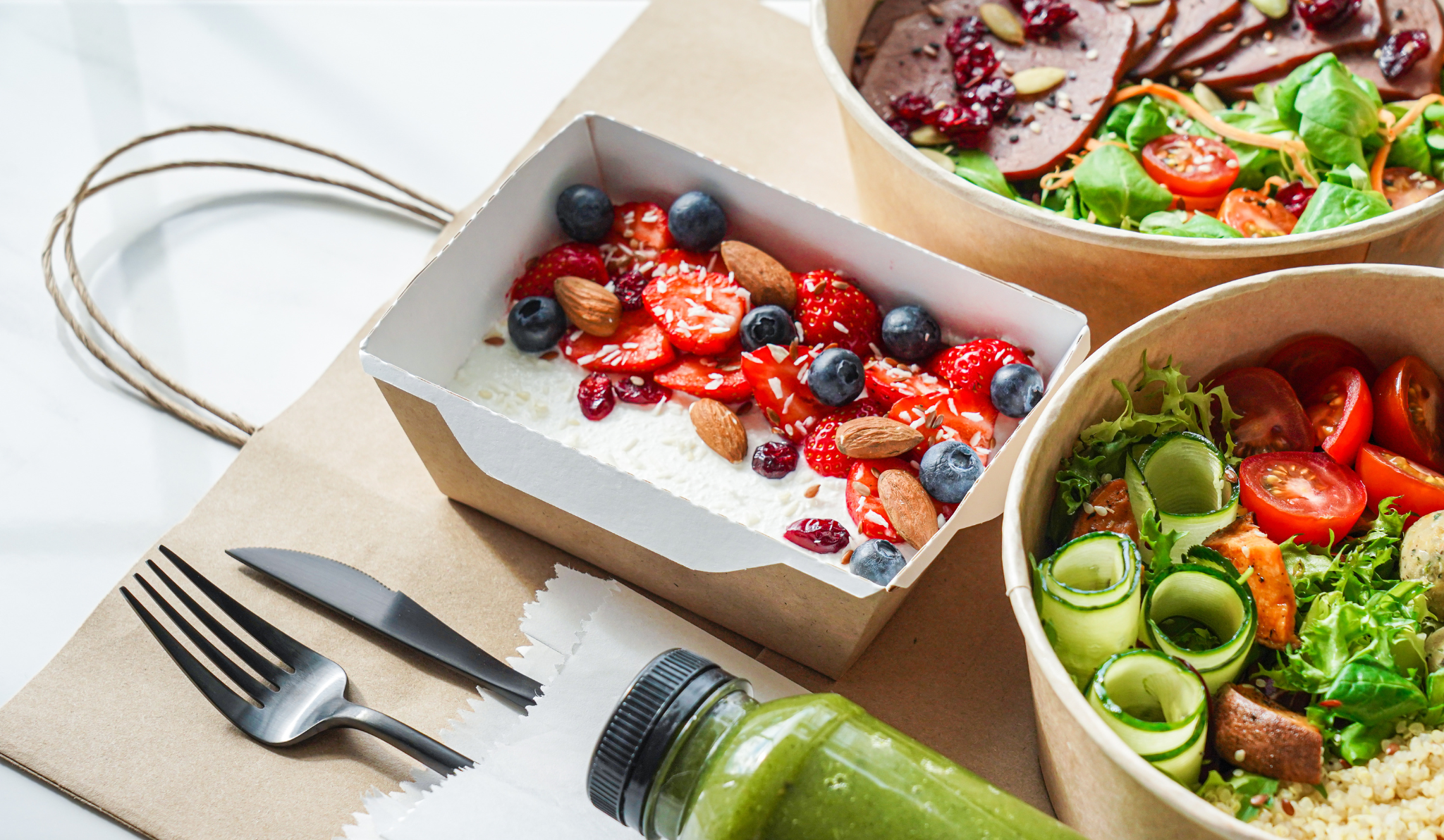 As reported in the SCMP, Deloitte Asia-Pacific's head of consumer goods and retail, Zhang Tianbing, suggests that China's pre-prepared food market is set for strong growth. B2B catering and distribution is more developed, while the general consumer market continues to expand. "Pre-prepared dishes meet the preferences of a new generation of consumers for healthier and more distinctive meals … and the epidemic has accelerated the spread of pre-cooked food," Zhang said[8].
KEY CONSUMERS
Working Mothers: A growing number of young Chinese working mothers seek healthy, ready-made meals for their children. They aim for nutritious family dinners but are short on time to prepare meals from scratch every day whereas pre-prepare ingredients offer a time-saving option, that is worth the additional cost compared to raw ingredients[9].
Single Chinese Consumers: Many singles, particularly men, opt for ready-made meals over cooking or dining out. Many lack the interest and skills for preparing and cooking at home regularly and do not have the range of kitchen items needed in rented and shared accommodation. Regularly eating out at restaurants or ordering takeout can be increasingly costly for those aiming to save money and buy a home[10].
Elderly Individuals: Many older people living alone face challenges in cooking for themselves and appreciate the convenience of easily accessible meals that only need reheating. These meals resemble home-cooked dishes made from raw materials but without the time and effort involved. Popular options include traditional thick soup, Chinese dumplings and even Peking Duck. Currently, over 260 million are aged over 60 in China, with around 10% of those living alone[11].
IMPORTED OPTIONS
Some of the most trusted countries for importing food into China include Australia, New Zealand, the United States, and countries within the European Union. These all have a reputation for high food safety standards and quality control measures. Chinese consumers tend to prefer imported food from these countries due to their trust in the safety and quality of the products.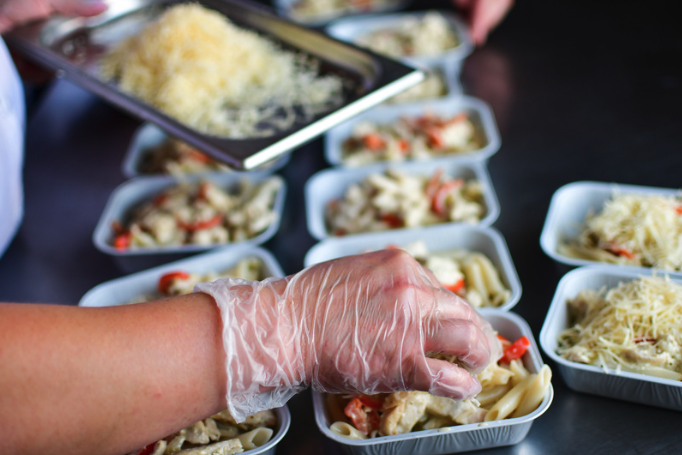 Concerns about the safety, and quality of locally mass-produced food is still a concern for consumers, but many are willing to try local products and are supportive of local brands. However, as soon as a local food scare hits the news or social media, consumers can quickly pivot to imported food from a specific category.
A hybrid approach of producing locally manufactured food with imported ingredients may be one way to way to leverage this growth trend, rather than shipping pre-made food long distances into China via sea freight. Near-shoring may also be an option, by manufacturing food in Hong Kong or Singapore. Both locations are long-standing food manufacturing hubs that have distributed consumer packaged goods in China and throughout Asia for decades. Singaporean company SATS, has invested in a central kitchen facility located between Beijing and Tianjin to serve millions of consumers locally[12].
CONCLUSION
Growing demand for convenience, coupled with increasingly busy lifestyles has created a significant market opportunity for international food brands in China's ready-made meal sector. As the Chinese market continues to expand, businesses that can offer high-quality, nutritious, and environmentally friendly meal options and food ingredients at competitive prices stand to benefit significantly. By leveraging the strengths of e-commerce platforms and keeping up with evolving consumer preferences, international food brands can tap into this growth market and cater to the diverse needs of a wide range of Chinese consumers.
Check out what other trends we expect to see develop further in 2023
here
.
We will also soon be publishing our 2023 Chinese Social Media Platform Guide which will help brands navigate China's diverse social media landscape. Contact
guy.thompson@umssocial.com
 if you would like to be notified when it is released.
SOURCES:
[1] MENA FN Research April 2023 https://menafn.com/1106131195/Ready-To-Eat-Meals-Market-Is-Expected-To-Grow-At-A-1098-CAGR-And-Reach-USD-1880-Billion-By-2030-Report-By-MRFR
[2] Ready-to-Eat Dishes in High Demand Among Consumers, April 2023
https://shanghaiist.com/ready-to-eat-dishes-in-high-demand-among-consumers/
[3] China Daily – Ready meals see rising demand, Aug 2022
https://www.chinadailyhk.com/article/283541
[4] Global Frozen Foods Market Size and Share to Reach $553.1 Billion by 2030
https://www.bloomberg.com/press-releases/2023-03-17/global-frozen-foods-market-size-and-share-to-reach-553-1-billion-by-2030-with-a-5-2-cagr-driven-by-growing-demand-for
[5] Ready-to-Eat Meals – China, Statista, March 2023
https://www.statista.com/outlook/cmo/food/convenience-food/ready-to-eat-meals/china
[6] China Daily – Ready meals see rising demand, Aug 2022
https://www.chinadailyhk.com/article/283541
[7] Ready-to-Eat Dishes in High Demand Among Consumers, April 2023
https://shanghaiist.com/ready-to-eat-dishes-in-high-demand-among-consumers/
[8] SCMP – China's booming ready-meals industry shows how pre-cooked food options are here to stay, Aug 2022
https://www.scmp.com/economy/china-economy/article/3187589/chinas-booming-ready-meals-industry-shows-how-pre-cooked-food
[9] Unpacking Chinese Consumers' Growing Appetite for Pre-Made Meals Over Takeaway, Aug 2022
https://www.alizila.com/chinese-consumers-growing-appetite-pre-made-meals-over-takeaway/
[10] Unpacking Chinese Consumers' Growing Appetite for Pre-Made Meals Over Takeaway, Aug 2022
https://www.alizila.com/chinese-consumers-growing-appetite-pre-made-meals-over-takeaway/
[11] Research on Chinese Elderly Health Status, Jun 2022
https://www.ncbi.nlm.nih.gov/pmc/articles/PMC9223444/
[12] Asia Food Journal, April 2023
https://asiafoodjournal.com/sats-expands-in-china-to-capture-the-ready-to-eat-market/
End.