This week our Co-CEO Eric Yu presented at the ICEF China conference in Beijing. ICEF China is an international education conference that brings educators, agents, and service providers together to foster collaboration in international education. The event provides a platform for presentation, networking, and discussion, helping participants adapt to the dynamic global education landscape.
We have summarised this presentation below to share the main points from Eric's speech, read on to find out more for insights into the international education market.
Chinese Study Market.
Eric introduced the concept of international education by providing statistics showing how the Chinese education market offers tremendous potential for international campuses worldwide. While 700,000 students studied abroad in 2019, more than 40 million students are currently enrolled in higher education in China. Eric stated that Chinese students account for approximately 12% of all international students globally, and they predominantly choose Western campus locations. With 11.6 million young graduates this year, there's a significant opportunity for international institutions, especially given the rising interest in post-graduate studies as a response to high youth unemployment.
Eric also highlighted that post-study work rights have become a significant driver for student mobility. Countries like Australia, New Zealand, and Canada have extended these rights to boost student interest. In contrast, the United Kingdom, without such modifications, still attracts interest due to its reputable universities.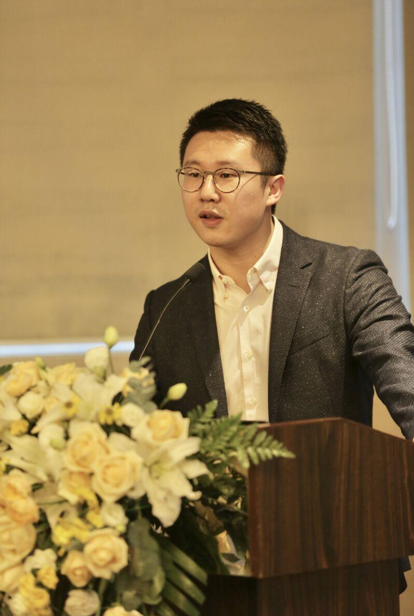 UMS Co-CEO Eric Yu presenting at ICEF China.
The Student Journey.
Another key point of Eric's presentation was the importance of understanding the International Student Journey Life Cycle. The cycle comprises recruitment, onboarding, student experience, employability, advocacy, and life-long learning stages.
Industry research indicates that 80% of Chinese students consider studying abroad, driven by a desire to broaden their international horizons and life experiences. Popular education destinations in Asia are gaining traction due to proximity and the ability to return home during crises. Students seek a balance between prestige, lifestyle, cost, and cultural aspects in their international studies.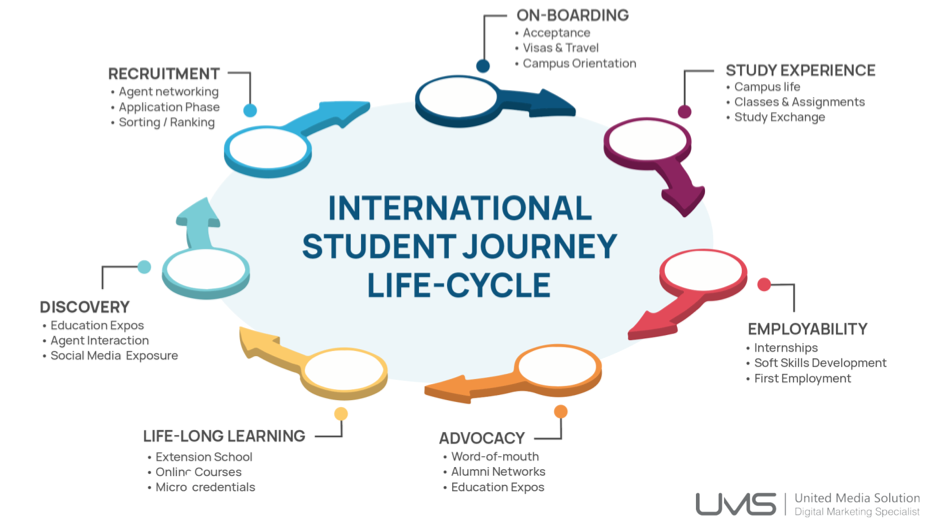 Eric's presentation also highlighted the significance of parents and agents and how they are involved in different stages of the student journey. Real-time social media monitoring or "social listening" can provide insights into the topics discussed and the sentiment around them. It allows institutions to understand student behavior, preferences, and concerns in real-time, enabling targeted and informed engagement strategies.
China Digital Landscape.
Eric's presentation highlighted that it's crucial for content and marketing strategies to prioritize a mobile-first approach. Different social media platforms have varying levels of penetration in different Chinese cities, including new Tier 1 cities. Tailoring content and messaging to specific platforms popular in key cities can significantly enhance engagement.
China's social media landscape comprises four key platforms: WeChat, Little Red Book, Douyin, and Bilibili. Each platform serves a unique purpose and demographic, offering opportunities for reaching and engaging prospective students.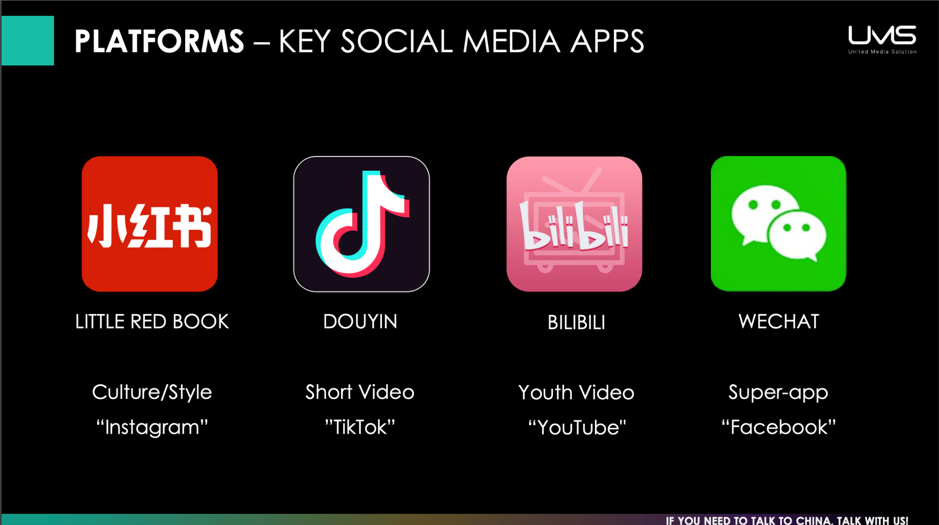 Little Red Book
Little Red Book serves as a major search engine, e-commerce platform, and social media hub. With a predominantly female user base, it's an excellent platform for engaging prospective female students. Popular topics include food, lifestyle, fashion, and makeup, making it ideal for promoting a vibrant campus life.
Douyin
With over 730 million monthly active users, Douyin offers a wide reach across age groups. It's similar to TikTok and caters to diverse content categories. Advertising and live streaming are highly engaging features that can be leveraged for student outreach.
Bilibili
Bilibili is akin to YouTube and appeals to a young audience. It covers a wide range of content, including education-related material. Leveraging Bilibili can help institutions engage students throughout their educational journey, from teens to young adults.
WeChat
WeChat remains the largest social media platform in China. It caters to both young and older audiences and is a vital channel for engaging parents. WeChat's features, such as mini-programs and targeted audience segmentation, are useful for personalized communication.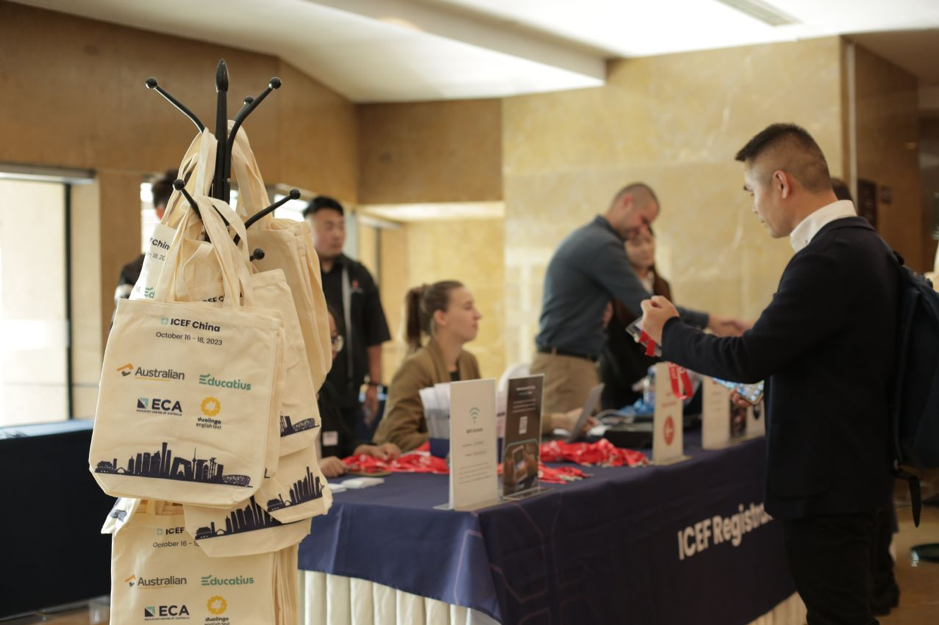 Eric's Marketing Recommendations.
Targeting: Tailor your approach to specific audiences in China to address their aspirations This involves understanding the diverse cultural, regional, and demographic factors that influence your target audience's preferences and needs.
Multichannel Approach: Utilize official websites, WeChat accounts, and other popular Chinese social media platforms to maximize reach. This multichannel approach ensures that you can connect with potential students, parents, and alumni across a variety of platforms and engage them where they are most active.
Offline Engagement: Beyond online channels, it's also valuable to host educational events in China to create in-person connections with prospective students, parents, and alumni. These events can include seminars, workshops, or informational sessions that allow for direct interactions and relationship-building, which can be crucial for building trust and credibility.
Personalization: Use WeChat Mini-programs to share information and support application processes, creating awareness and direct engagement.
Build Trust Online: Explore various advertising options to ensure your brand receives maximum exposure in densely populated Chinese cities.
To read more about marketing recommendations and how to leverage Chinese social media to connect with prospective students, check out our full China Social Media Platforms Guide here!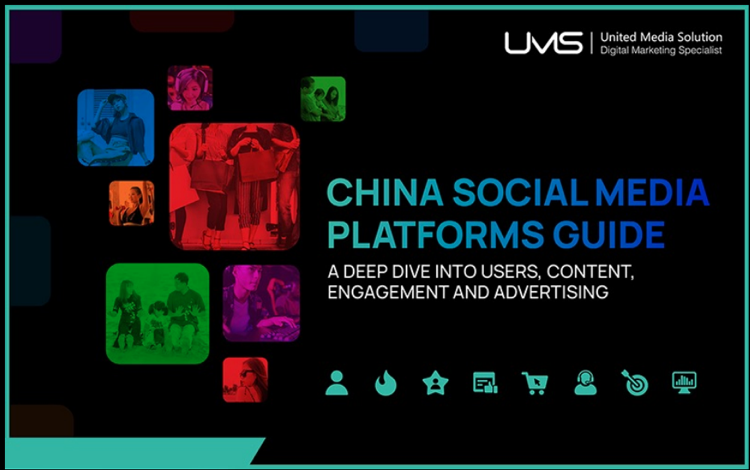 If you have any further questions or would like to discuss how UMS can help your brand in China, please contact our Co-CEO Eric Yu at eric.yu@umssocial.com or our Associate Director of Insights Guy Thompson at guy.thompson@umssocial.com.