The NZIEC KI TUA 2023 International Education Conference, was in Ōtautahi, Christchurch recently. The event brought together key leaders from education throughout New Zealand for a three-day program that explored opportunities for the future, to rebuild international student numbers and grow beyond. The conference theme 'Te Ara Ki Tua' translates as 'the pathway forward or, 'the journey beyond the horizon'.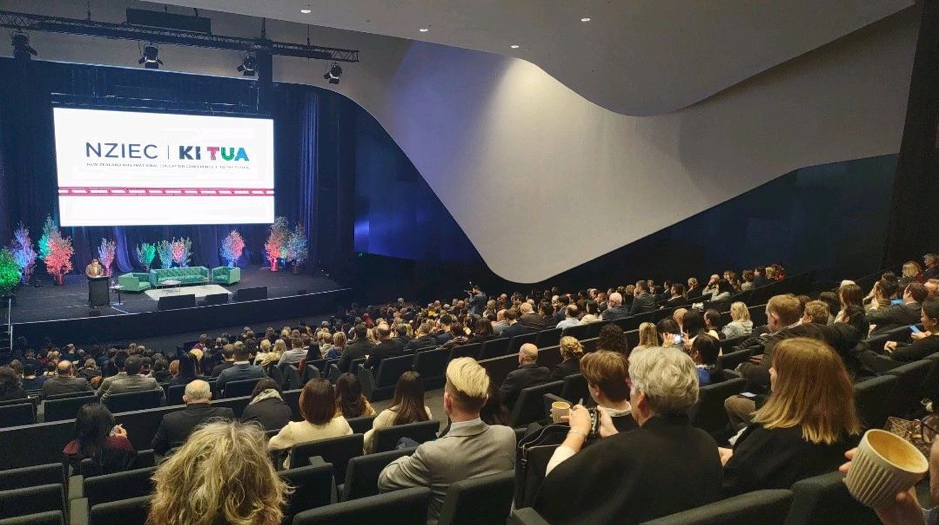 At the opening of the conference, attendees heard from Education New Zealand Board Chair Tracey Bridges, RMIT Online Chief Executive Officer Helen Souness and 'Bead and Proceed' Chief Executive Officer Bridget Williams.
The event was attended by The Minister of Education, China, Dr Huai Jinpeng, and his visit helped to underscore the important relationship between New Zealand and China regarding international education and fostering people-to-people links.
Education New Zealand commented on the welcome attendance of the Minister:

China is one of our largest source countries of international students, with almost 12,000 Chinese students studying in New Zealand. Minister Huai Jinpeng addressed NZIEC KI TUA attendees this morning discussing the relationship between China and New Zealand, and his desire to promote more education cooperation between our two nations."
During the conference, UMS Founder Jessica Miao provided a presentation to attendees entitled 'Crowdsourced Freshness' – 'How to leverage social media to update and build education programs and student services'. In this article, we explore the key points from her presentation: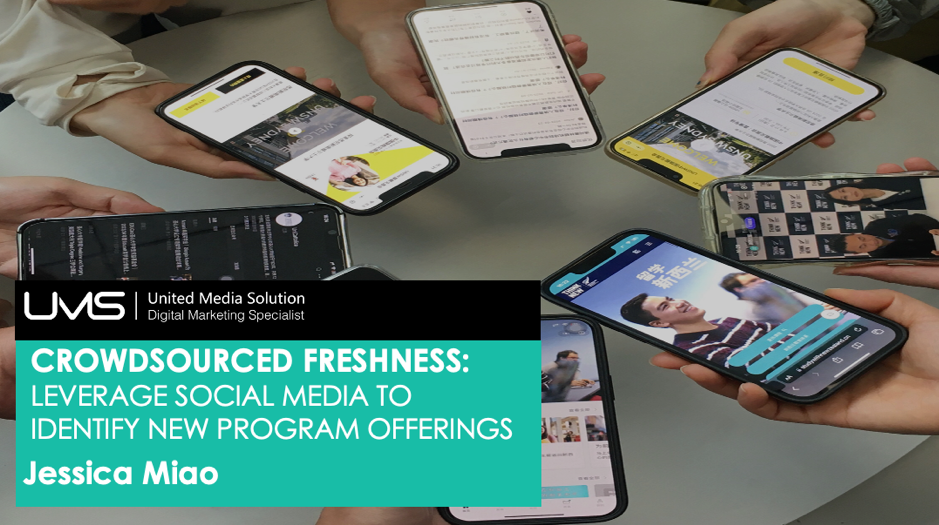 INTRODUCTION
The Main Question: Why would a student choose New Zealand now? And why wouldn't they?
The international education sector is recovering post-pandemic, with a surge in applications and returning students. Yet, the landscape has changed. So, why would a student choose New Zealand, and why wouldn't they? We need more than just numbers; we need quality applications.
Today, I want to introduce the concept of social listening in social media to better understand our target market and shape a robust brand reputation.
UNDERSTANDING THE JOURNEY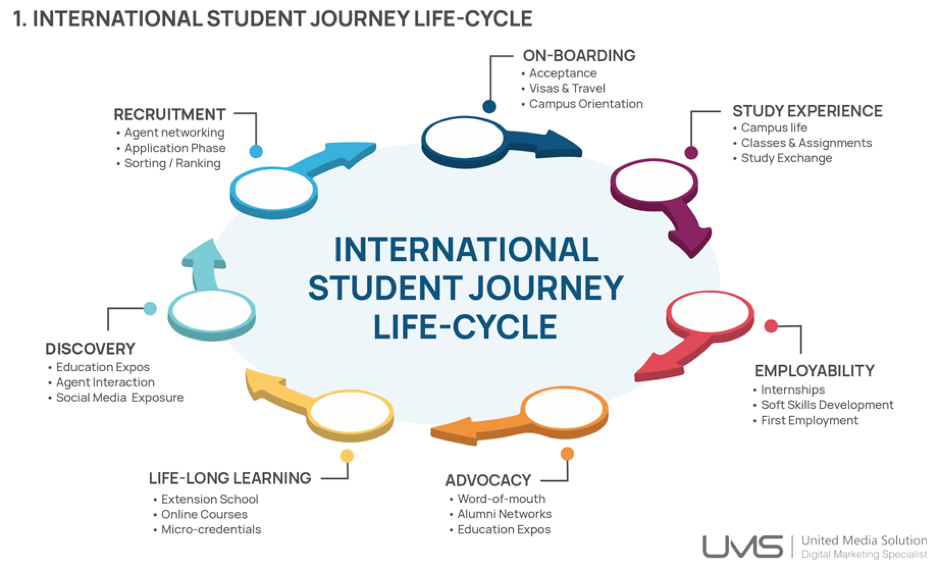 Our United Media Solution team developing this International Student Journey Life Cycle, to explore and better understand each stage of the student's journey and identify the opportunities for developing new business, engagement and program opportunities.
WHERE TO LOOK FOR INSIGHTS?
Students are active on social media throughout their journey and employ a Social Listening model to tap into these conversations. This helps us identify student trends, preferences, and needs, and then crowdsource insights. From this data, we can suggest strategies for implementing new programs.
PLATFORM MONITORING FOR SOCIAL MEDIA LISTENING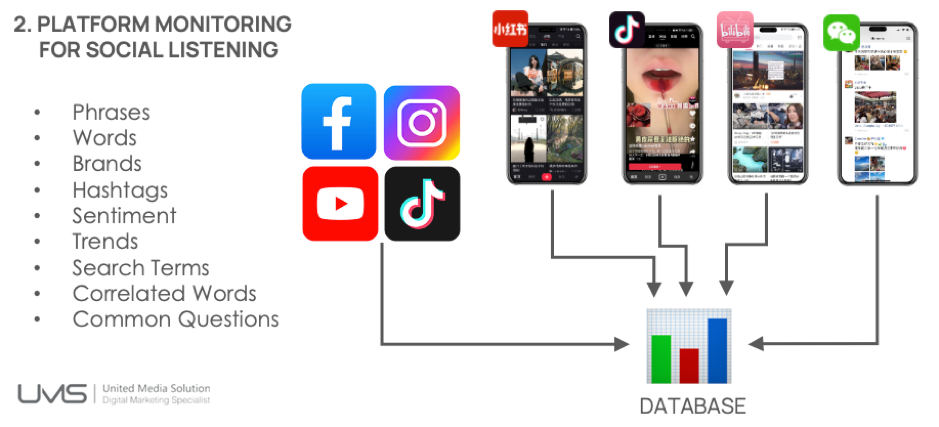 Social media listening can track conversations around specific phrases, words, or brands. With different tools, we can capture real-time data on user sentiments for Western social media and for platforms in China. We convert this raw data into insights to guide strategy and ensure that education institutions can remain globally competitive.
CHINA RECRUITMENT – SOCIAL LISTENING
We have an example below of key search terms and topics of discussion during the recruitment stage on social media in China. This helps us to identify the content to include in marketing creatives for higher engagement.
USING SOCIAL LISTENING DATA – TARGETING STAKEHOLDERS
Parents and agents are also part of the student journey. Social listening helps us understand their needs and how they influence student behaviour. Real-time monitoring ensures we allocate resources effectively, especially when sentiment about New Zealand is positive.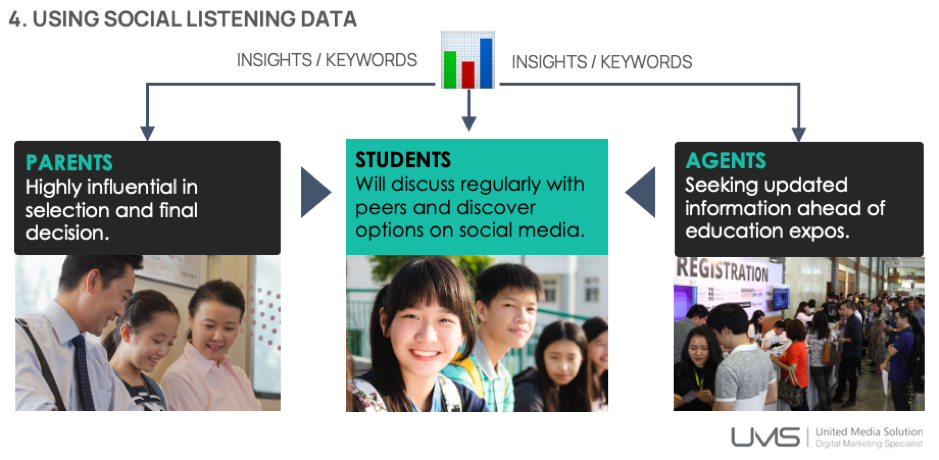 As the students move through their Student Journey, their parents, and the agents they work with are involved at different times, and for different reasons. Social listening can help us uncover key insights about the topics they are discussing and the sentiment around them and understand how parents and agents influence student behaviour.
IDENTIFYING TRENDS FOR THE RECRUITMENT STAGE
How do we spot emerging trends on social media platforms? One way is by observing spikes in discussions, hashtags, or keyword mentions that can highlight new trends. Platforms like WeChat, Douyin and Little Red Book dominate the Chinese digital landscape. By understanding platform-specific trends, we can craft messages that resonate more deeply.
Download our latest guide here: UMS China Social Media Platforms Guide
LEVERAGING INSIGHTS FOR STUDENT PROGRAMS
Leveraging the insights from social media listening and trend analysis offers a wealth of opportunities to refine and innovate in education.
Tailoring Curriculum: Use insights to align programs with student interests and career goals.
Crafting Real-world Assignments: Leverage insights to enhance student employability through relevant assignments.
Enhancing Student Support: Develop targeted support programs based on online discussions of student pain points.
Hosting Trend-driven Events: Organize events around current trends to foster meaningful student conversations.
Improving Alumni Engagement: Use trend data to tailor alumni newsletters, webinars, and reunions.
Personalized Marketing: Utilise keywords and preferences for targeted marketing campaigns.
Authentic Social Media: Launch hashtag challenges or campaigns based on trends to engage the student community.
By tuning into students' voices and the evolving trends of the education landscape, we position ourselves not just to react but to lead innovatively, offering experiences and programs that are not just relevant but deeply meaningful. When executed well, it can be a game-changer for educational institutions, optimising both program performance and marketing ROI.
BUILDING BACK BETTER
As we navigate this rapidly evolving educational landscape, it's vital to be proactive and adaptive. By embracing tools like social media listening, and by valuing insights from both home and abroad, we set ourselves on a path to better understand current and future student needs and to deliver high-quality study experiences to our students, wherever they come from.
Thank you.
For more information reach out directly to us: jessica@umssocial.com and sales@umssocial.com