Brands with experience in the China market know that it is a completely different landscape from the West. And while WeChat has been an essential platform for many brands to test the market, it's just the tip of the iceberg. China's vast digital landscape is packed with opportunities to reach new consumers.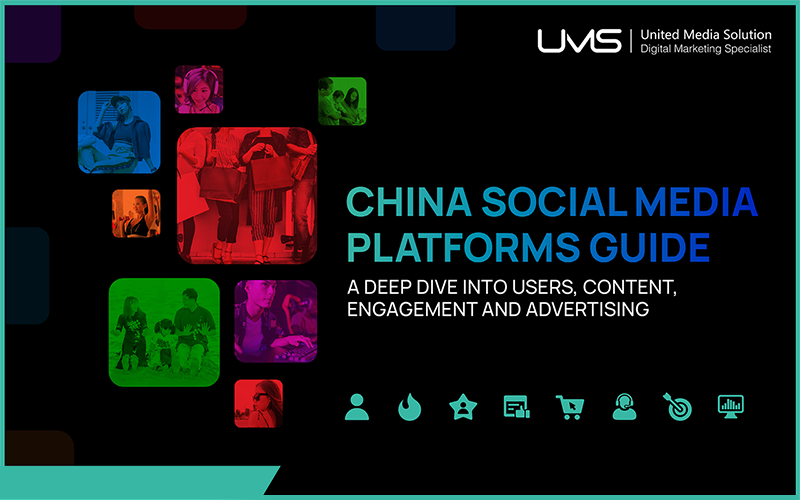 To truly harness the potential of the Chinese market, it is important for a brand to diversify across multiple platforms to reach different audience segments.
With this in mind, our Insights team at United Media Solution have combined our updated research into a new China Social Media Platforms Guide to provide you with a comprehensive roadmap:
Overview of Social Media Use and Mobile Landscape in China.

Deep Dive into four key platforms:

Xiaohongshu (Little Red Book)
Douyin
Bilibili
WeChat
Infographic 'Quick Reference Guide' for each platform, along with:

Users & Behaviour
Popular Content
Account Types
Advertising Options
Ecommerce Options
Customer Service
Brand Strategy
Platform Summary
(Additional Social Commerce Cycle and Popular Categories for RED)
Overview of 14 Essential Apps, including Shopping, News and Video.


Wrap-up of Marketing Tips that apply across platforms.
Summary of Key Report Takeaways:
Venture Beyond WeChat: Platforms like Little Red Book, Douyin and Bilibili are emerging as formidable contenders to WeChat, especially among Gen Z and Millennial consumers. Our guide offers a deep dive into these platforms, uncovering insights and trends that reflect the use of platforms like Instagram and YouTube in Western social media.
Unlock Rich User Insights: Our guide provides important insights into user behaviour across different platforms. Bilibili fosters a community of active content creators and streamers. Douyin is the epicentre for entertainment and trends. Xiaohongshu is the go-to for genuine product reviews and lifestyle insights, while WeChat seamlessly integrates into users' daily routines. We uncover vital insights for crafting compelling marketing and content strategies.
Maximize Your Ad Spend: Each platform in China offers unique advertising opportunities. Whether it's sponsored video posts on Douyin or influencer collaborations on Xiaohongshu, our guide explores the advertising avenues for each platform, to help brands achieve excellent visibility and engagement.
Stay Ahead with E-commerce Trends: China's e-commerce landscape is in a state of rapid change after the pandemic. With platforms like Douyin pivoting towards a more e-commerce-centric model, our guide explores strategies to harness these shifts inside social media apps, with the aim of driving sales and building brand loyalty.
Target with Precision: It is now possible to identify new opportunities and target audiences as they move across different platforms and follow new trends. From mature Millennials and Gen X to Gen Z and Gen Alpha, Identifying the best kind of content for each platform will help demographic targeting be even more effective.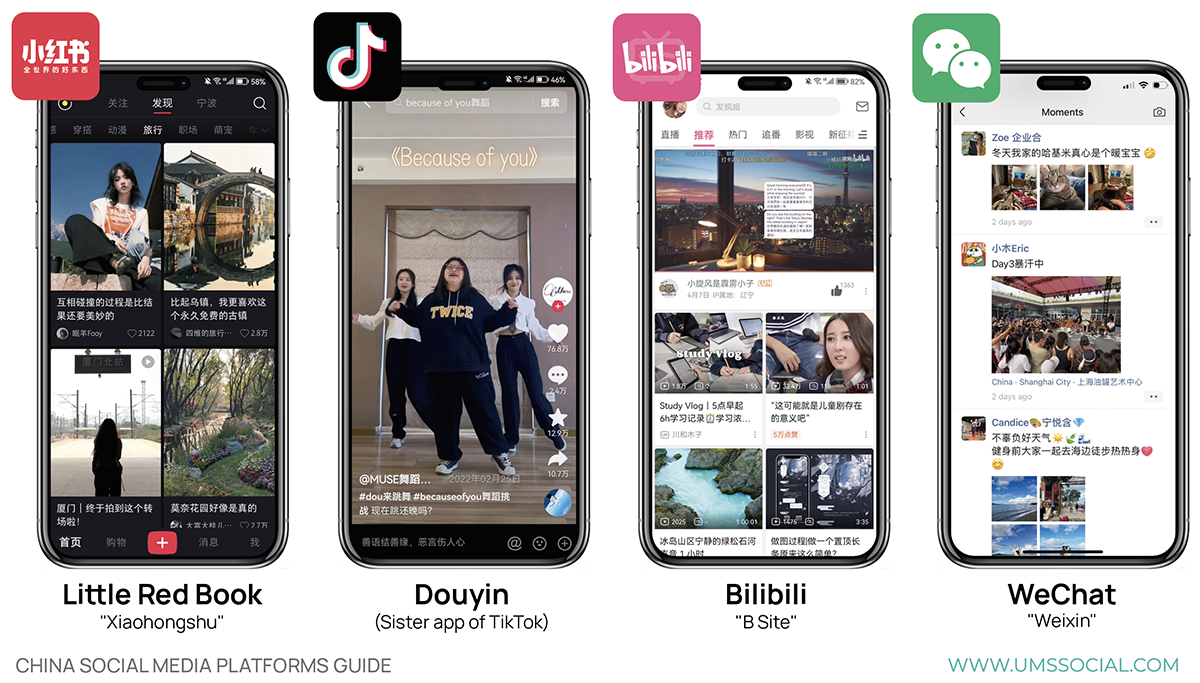 Key Platform Insights:
Xiaohongshu (Little Red Book) – Lifestyle Central: Xiaohongshu is more than just a social media platform; it's a lifestyle curator. Mainly used by urban females under 30, the platform is a fusion of social media and e-commerce. Users share product reviews, travel experiences, and lifestyle tips, making it a treasure trove of user-generated content. For brands, Xiaohongshu offers a unique opportunity to engage with consumers in a more authentic and organic manner. Brands that can harness the power of Xiaohongshu's community-driven content can build trust and drive sales in a way that few other platforms offer.
Douyin – The Video Powerhouse: Douyin the local China version of TikTok, captivates its users with fast-paced and visually appealing content. Most of its users are between 18 and 24, spending almost an hour daily on the app. Douyin's diverse content has moved beyond lip-syncing and dance videos to product reviews and advice content and maintains a keen focus on sustained user engagement. And now with its increasing focus on e-commerce, brands have a golden opportunity to drive sales directly through the platform.
Bilibili – The Youth Magnet: Bilibili has emerged as a favourite among young Chinese, with over 80% of its users under 25. These users are not just passive consumers; they're active content creators, uploading over 40 million user-generated videos in 2022 alone. The platform's unique requirement for registered users to pass a 40-question test ensures a supportive user community. With content ranging from anime and gaming to education, Bilibili offers brands a diverse audience to engage with.
WeChat – The Essential 'Super-app': From messaging to shopping, and from payments to booking appointments WeChat has seamlessly integrated itself into the daily lives of its users. For brands, this means a vast array of touchpoints to engage with consumers. The platform's Mini Programs feature allows brands to create seamless shopping, gaming, or content consumption experience without the user having to leave WeChat. With its vast user base and diverse functionalities, WeChat still provides brands with opportunities to engage, sell, and build loyalty.
Example Platform Quick Reference Guide (Little Red Book)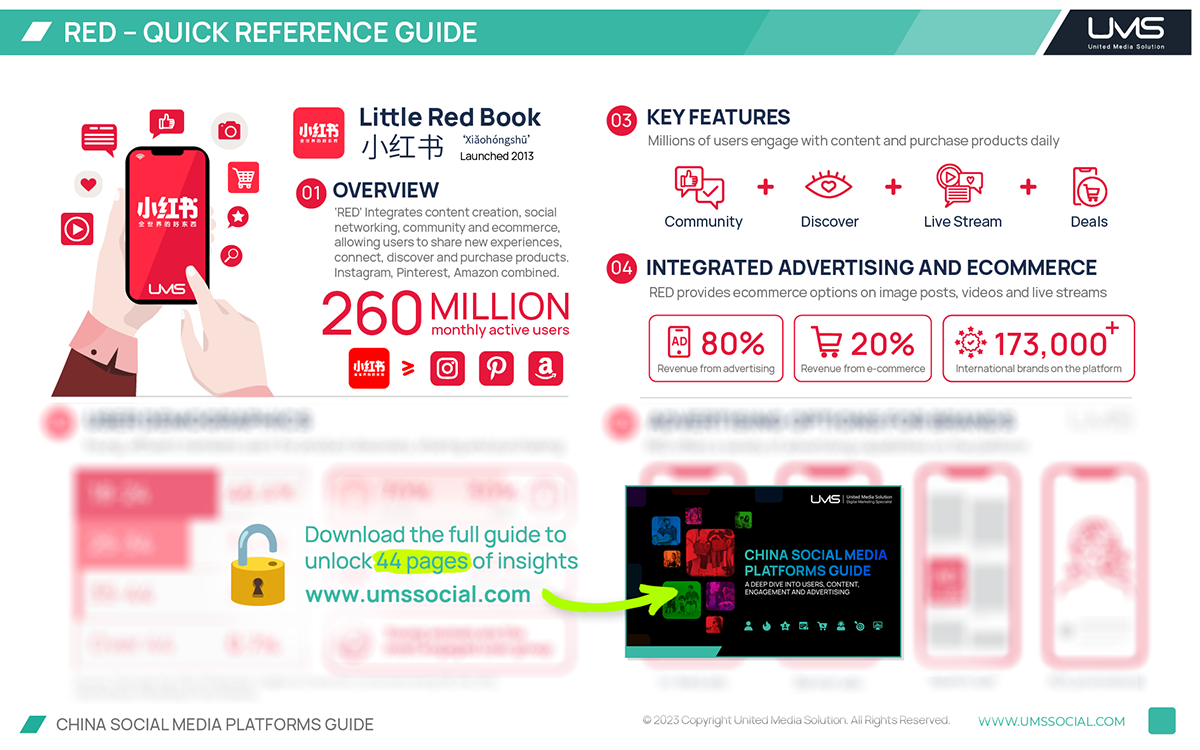 The United Media Solution Advantage:
By integrating the insights from our China Social Media Platforms Guide into your strategy, we're confident your brand will witness exponential growth in followers and customer engagement. At UMS, we're dedicated to ensuring brands like yours flourish in the Chinese market, and this guide can help you find the way.
Download the China Social Media Platforms Guide now to kick-start your strategy for growth in the Middle Kingdom.