This week, New Zealand's Prime Minister is visiting China and attention is turning to the state of recovery in the international education sector. During the visit, an agreement was signed in Beijing regarding the mutual recognition of higher education degrees. This will be valuable for New Zealand to build up potential interest from advanced postgraduate and PhD students in China.
During the lead-up to the pandemic, the number of international students enrolled in higher education grew steadily on campuses around the world. The growth of China's economy and other emerging economies produced a rising middle class, keen to send their children offshore to study. Around 35,000 Chinese students were studying in New Zealand in 2019 from a total of 115,000 international students enrolled in the country.
Many students returned to their home countries during the pandemic and New Zealand is struggling to make headway to recover student numbers compared to other popular study destinations including the UK and Canada. As of March this year, the total number of international student visa holders in New Zealand fell to 34,000[1]. Visa processing staff are working hard to process new enquiries, but the rate of applications looks like it will take years to reach the previous levels.
Find out more insights in our UMS Whitepaper: Reconnecting with Prospective Students in China here: https://www.umssocial.com/market-report/2023_link
Prior to the pandemic, over 750,000 international students were enrolled in Australia, with more than 260,000 from China[2]. The country has long been attractive for international students seeking a lifestyle and employment opportunities. Australia's population is five times larger than New Zealand, but the number of international students enrolled in 2019 was 6.5 times higher – and the number of Chinese students was 7.4 times higher.
CHINESE STUDENT ENROLMENT WITH NEW ZEALAND PROVIDERS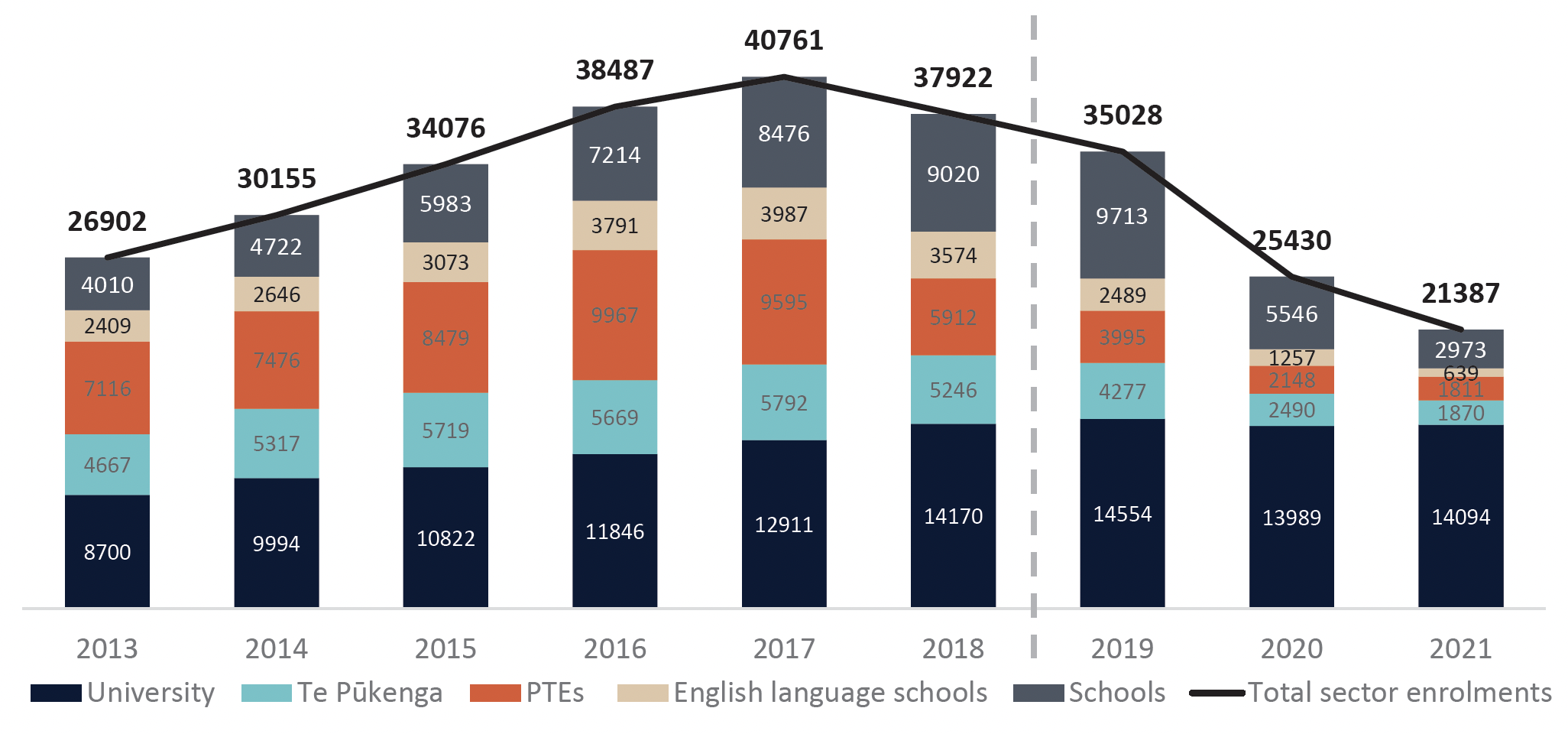 Source: Education New Zealand, The Insight Story, May 2023 (Te Pukenga = Polytechnic)
In the lead-up to the pandemic, interest and enrolment from China was already starting to wane and the slow pace of recovery underscores the pressing need for further action and collaboration across sectors and industries. A recent survey indicated that 70% of parents and 80% of students in China are interested in overseas study[3].
More efforts are vital to not only regain the lost ground, but to also help advance the education sector into the future and showcase New Zealand as a leading destination for high-quality education. We asked Alistair Crozier, Executive Director of the New Zealand China Council to describe the economic value of Chinese students studying in New Zealand.
"The wider value for New Zealand when hosting students from China (and other countries) is sometimes overlooked. Revenue to our educational institutions is a significant direct benefit, as is tourism spent when students and their visiting families and friends explore our country. But it's the longer-term links that can be even more lucrative." 
"Those who study with us often maintain lifelong business, investment, travel, research, and higher education links with New Zealand, for themselves and their children, or migrate to contribute their skills permanently to our economy. Considering all these flow-on benefits gives a truer sense of the real value of Chinese education links for New Zealand," said Alistair.
STUDENT VISA LEVELS
A recent report from Education New Zealand indicated that 75% of overall 2019 student levels could be reached by 2026. This still represents a significant loss for the sector that has flow-on effects for staffing and resourcing at leading institutions, that have already had significant cutbacks during the pandemic. International visa applications and processing are significantly ahead in other key Western education markets.
The UK and Canada are up 55% and 74% respectively on 2019 levels, yet New Zealand is lagging behind with a 57% decrease in student visas granted. Education New Zealand has run specific "I AM NEW" marketing campaigns on WeChat and BiliBili to boost awareness of studying in New Zealand. The marketing activity reached an audience of 19 million and 109,000 click-throughs to the I AM website[4]. Visits to the Study with New Zealand website were up 293% were up between November 2022 and February 2023[5].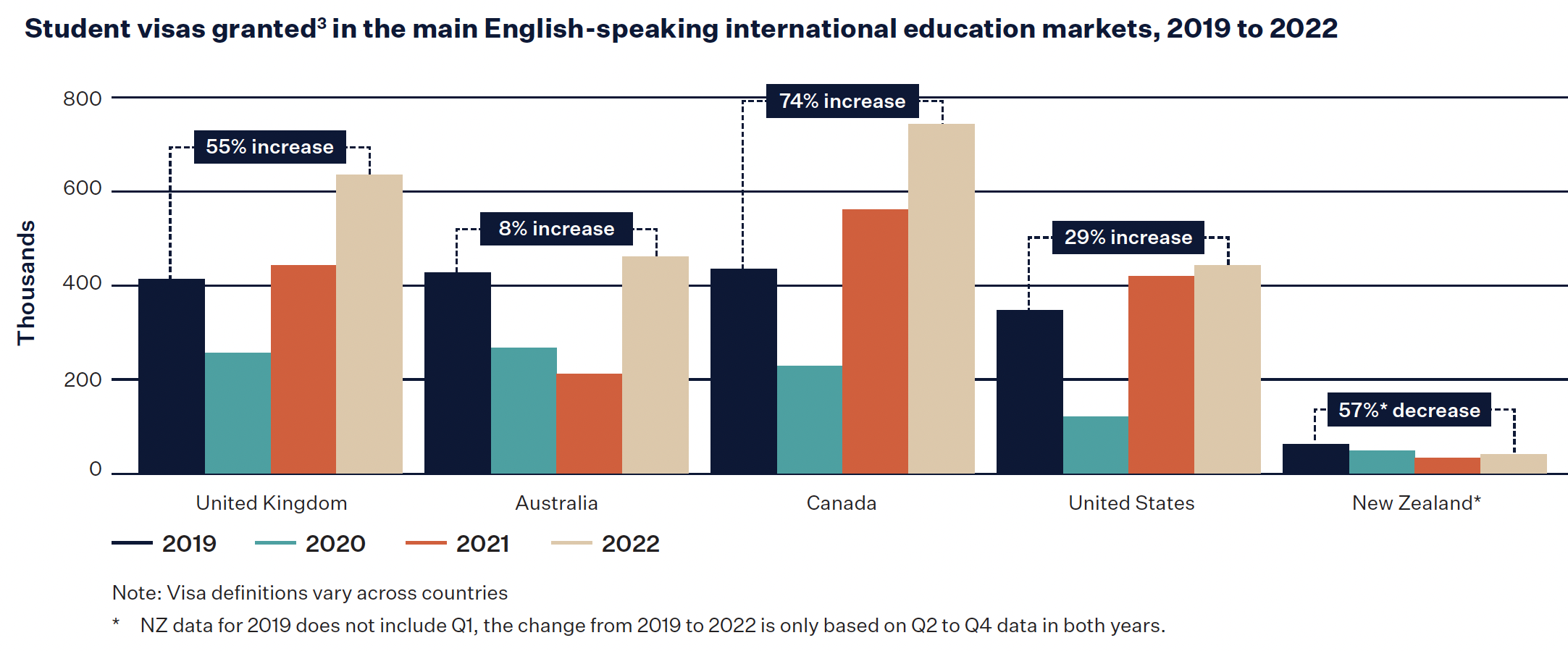 Source: Education New Zealand, The Insight Story, May 2023
LONG-TERM ECONOMIC BENEFITS
Education New Zealand estimates students who study in New Zealand and then spend up to 10 years living and working in the country will contribute $6 billion to the economy in the form of labour supply and productivity. The number of these long-term residents that began as international students was 73,885 in 2019 and 73,080 in 2022. One in four of the former International students transitioned into occupations on the Long-Term Skill Shortage List[6].
During the pandemic, several economies introduced extended post-study employment rights to encourage students to stay and work and to recruit new students. New Zealand now provides a 3-year post-study work visa to degree-level students and has renamed the skill shortage list to a Green List, consisting of roles in construction, engineering, IT, medical, teaching, and primary sectors. This will provide additional scope to attract undergraduate and postgraduate students with long-term ambitions to live and work in New Zealand[7].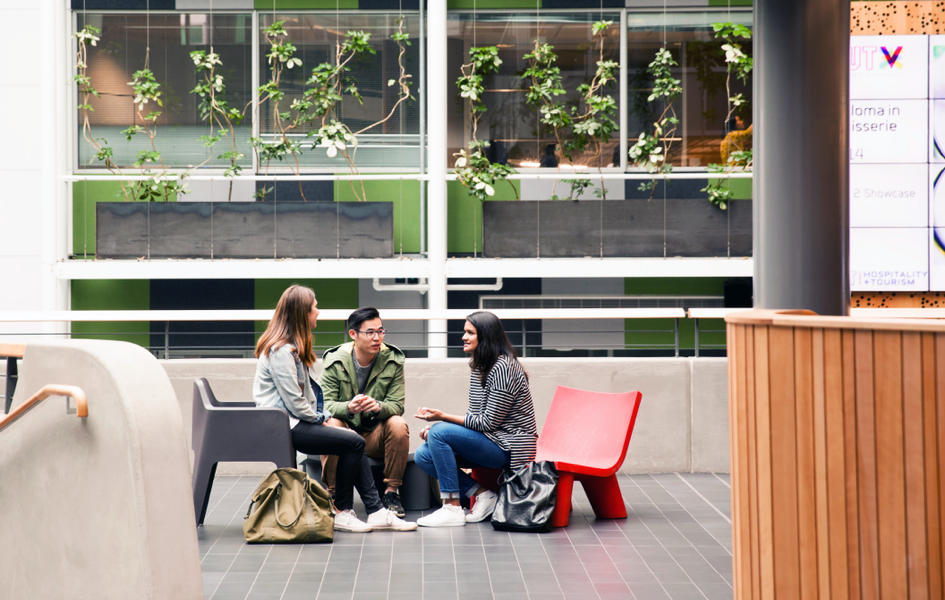 Photo credit: NZ Story – Students gathered at the Auckland University of Technology 
Many international students will take the opportunity to travel around New Zealand during their time in the country. Some friends and family may also make the journey to join them and discover what New Zealand has to offer. We asked General Manager for Marketing and Communications at Education New Zealand, Geoff Bilbrough about this aspect for Chinese students.
"We know that for many students from China, one of the reasons for choosing to study in New Zealand is the opportunity to get an excellent education and explore its breathtaking natural beauty."
"This offers rich benefits for not only New Zealand's tourism sector but also the wider communities and regions in the country that interact with visiting students. International students from China – with their unique cultural and language heritage – bring important diversity, social energy, and vitality to our regions." Geoff commented.
ENGAGEMENT STRATEGY
Reaching out to prospective students in China is essential for New Zealand education institutions to recover enrolment. Platforms such as WeChat, Little Red Book, and Douyin (China's TikTok) have a large user base of young consumers, making them ideal channels for promoting courses, campus life, and support services.
The New Zealand government refreshed its International Education Strategy, to focus on high-quality and high value, both for the courses being offered, and the students opting to study in the country[8]. Social media platforms, especially those that focus on user generated content like Little Red Book and Douyin provide ideal channels to showcase these aspects.
By sharing Chinese students' success stories, highlighting cultural exchange programs, providing information on scholarships and visa processes, education providers can establish a strong online presence and attract more applications from Chinese students. Deeper connections with alumni networks throughout New Zealand and back in China will further help to boost content on social media.
SOCIAL MEDIA CONTENT TIPS
Compelling visuals and engaging storytelling with video can make all the difference when it comes to promotional content on social media. Education providers can create posts to showcase campus facilities, student life, and academic accomplishments of the institution. Video posts, such as "a day in the life" clips, can provide a glimpse into the daily experiences of students on campus – from attending classes to utilising on-campus facilities, including library and study areas.
User-generated content (UGC) can provide excellent engagement. By launching social media campaigns, and challenging hashtags that invite students to share their experiences, photos, and videos of campus life, events, and achievements, education providers can cultivate a sense of community and provide authentic insight into the high-quality aspects of studying in New Zealand.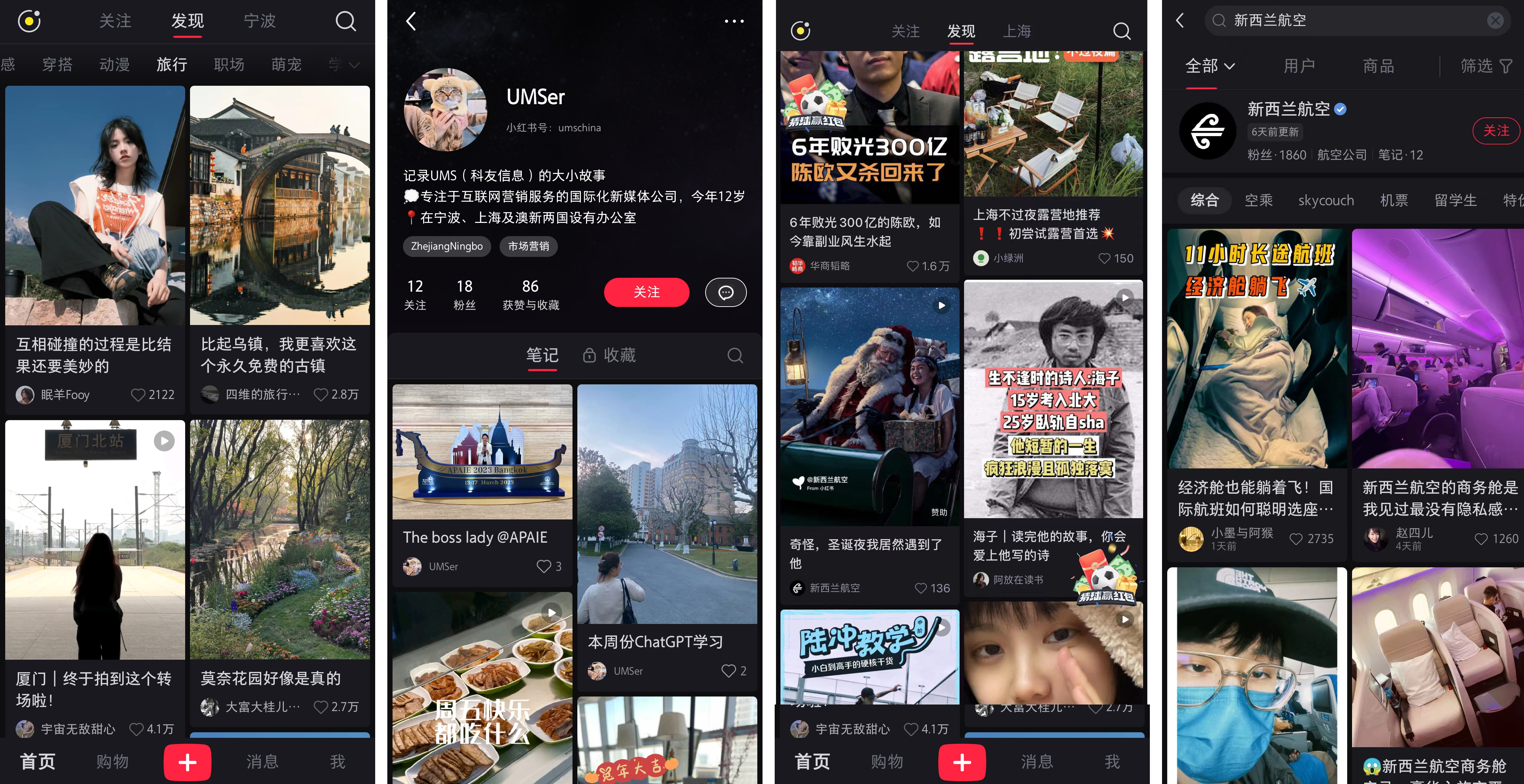 Image caption: Examples of content posted on Little Red Book (Xiaohongshu)
LEVERAGING AGENT NETWORKS
In addition to marketing, it's vital for New Zealand education institutions to foster and rekindle relationships with agent networks in China. By collaborating with reputable agents, institutions can ensure that accurate information about their courses and facilities reaches prospective students. Briefings need to be conducted in Mandarin and include presentation content in Chinese. Sector collaboration will be important to help provide this capability.
The oldest and most well-known education institutions have a built-in advantage, so new education providers, especially private training establishments (PTEs) and Polytechnics (Te Pukenga) for vocational training will need to use innovative marketing to make an impression on the right agents. Regular training sessions and updates for agents can further enhance their commitment to promoting New Zealand education.
HIGHLY VALUED SKILLS
China's vocational education has been undergoing reform over the last few years, with an aim to raise the profile of technical and skilled workers to complement the areas of tertiary education usually sought by ambitious parents, including finance, science, and medicine[9]. Economies cannot perform without a skilled technical workforce in trades and advanced manufacturing, and there is high interest from China in New Zealand's vocational education.
China aimed to have a comprehensive vocational training system in place in by 2025, however, progress on this goal will have been hampered during the pandemic[10]. The vocational training sector in New Zealand is well regarded in China and can be profiled and showcased further to key market segments. This presents opportunities for New Zealand's high school and tertiary education sectors as more students (and their parents) will look to an offshore education pathway after completing intermediate-level schooling in China.
REBUILDING TRUST AND CONNECTION
The disruption from the pandemic was significant for international students. Most went home as lockdowns began to take effect, or as soon as they were lifted for the first time. Many countries advised students to head home immediately in March 2020, which was a huge shock for students that had settled into their new study homes for a couple of years, and those that had just arrived. It will take time to rebuild trust and confidence in offshore learning.
At the beginning of the pandemic, the University of Auckland quickly established China Learning Centres in collaboration with partners in China in Chongqing, Harbin, Jiangyin, Zhangzhou and Qinhungdao. The Centres complemented the live online-study classes with local 'on-campus' support back in China. Vasso Koutsos, Deputy Director of International Marketing and Recruitment at the University of Auckland, commented on the initiative.
"Partners in China helped us provide dedicated learning Centres for our students who remained in China during the pandemic. Each of the Centre's responsiveness to students' needs under these difficult global conditions strengthened the University of Auckland's overall positioning [in China] and mitigated further loss from our top source market." Koutsos commented.
"We continue to look forward to welcoming international students on campus at the University of Auckland. Reconnecting and re-engaging in China is important to us. This is why we recently hosted our China Open Day with ten events across six cities. We have reconnected with agents, partners, alums, and students in China, and the response was very positive."
CONCLUSION
The road to recovery for New Zealand's education sector presents both challenges and opportunities. A combination of efforts will be needed to recover 2019 numbers, including the use of targeted social media marketing, creative promotional content, collaborative agent networks, and key stakeholder engagement throughout New Zealand and in China.
The current recovery efforts show promise, and it is essential to further these efforts to harness the sector's full potential and ensure that New Zealand continues to offer high-quality education and transformative experiences to students worldwide. More than 50 years of collaboration have already been spent on the New Zealand-China relationship, and new efforts are likely to be warmly received.
[1] The PIE News, "Mixed" recovery for New Zealand institutions, May 2023
[2] End of Year Summary of International Student Data 2019
[3] United Media Solution Whitepaper: Reconnecting with Prospective Students in China, March 2023
[4] ENZ I AM NEW Campaign Website
[5] ICEF Monitor: Update on International student visa holders, May 2023
[6] Education New Zealand, The Insight Story, May 2023
[7] AIMS Global, NZ Immigration Rebalance, June 2022
[8] ICEF Report on New Zealand's new national strategy, June 2022
[9] China Briefing: Vocational Education in China: New Law Promotes Sector's Growth, May 2022
[10] China Briefing: Vocational Education in China: New Law Promotes Sector's Growth, May 2022
END.