In 2022, the education industry breathed a sigh of relief as border closures and travel restrictions became a thing of the past. International education in the UK has been  significantly disrupted by the Covid-19 pandemic, with many students being forced to put their study plans on hold or study remotely. During this time, the UK also completed Brexit, resulting in a significant drop in interest and enrolments from EU students.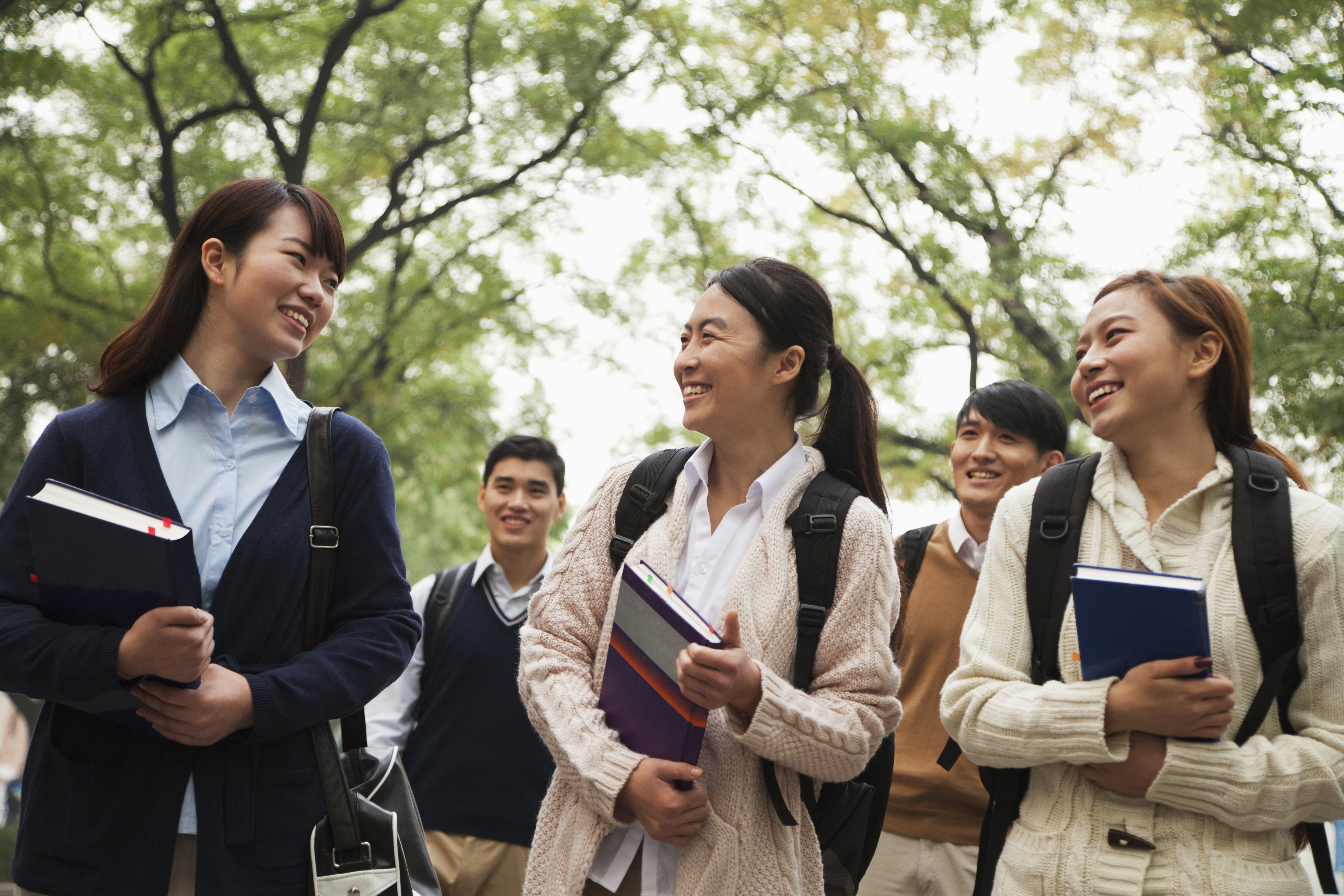 However, the future is looking bright. As borders have reopened, international students from non-EU counties are making a comeback. In the 2021-22 UK academic year, 679,970 international students were studying in the UK, with 82.3% coming from non-EU countries compared to 17.6% coming from the EU. The overall growth in international student numbers is 12.3% higher than 2021 and a significant 37% increase since 2019. (source)
Business & Management Studies continues to be the most popular subject among international students in the UK, with 217,610 students enrolled in this field. Engineering and Technology come in second with 67,870 students, followed by Computing with 56,855 students, and Social Sciences with 54,815 students. (source)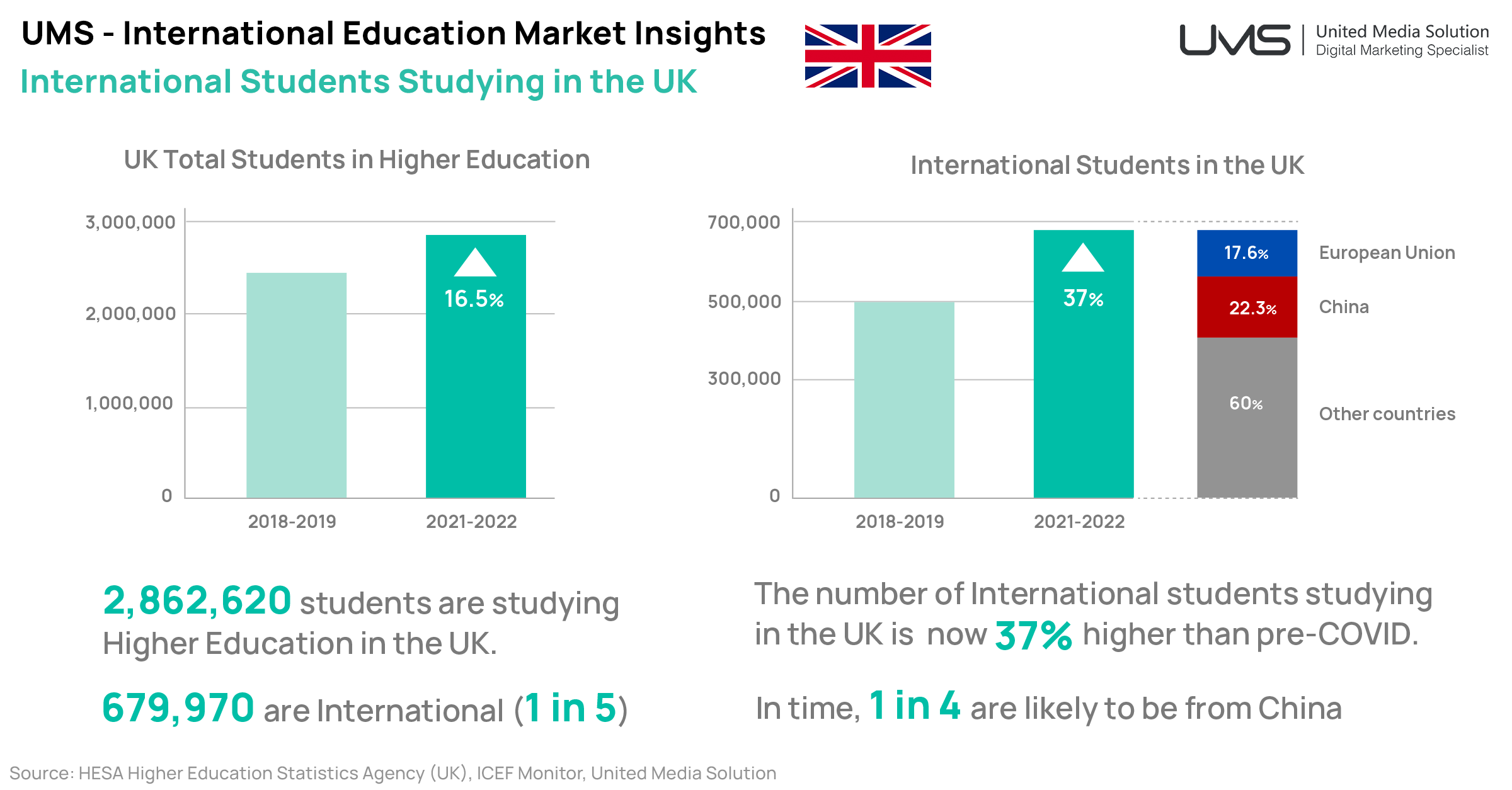 CHINESE STUDENTS
International students from China continues to be a vital market for UK universities, now representing their largest source of international students (22.3%). The number of students from China studying at higher education institutions in the UK has risen 41% since 2018, to 151,690 in 2022, and is closely followed by India with 126,535 students, and the EU, with 120,140 students. Nigeria, the United States, and Hong Kong are also among the top countries of origin for international students. (source)
For first-year non-UK students, 26.1% are international students arriving from China. Chinese students are also the highest proportion of postgraduate full-time students from non-EU countries, with approximately 71,395 students. The growth in Chinese students choosing to study in the UK is impressive, with a 41% increase since 2017-18, reflecting a drop in interest to study in the US, Canada, Australia and New Zealand. (source)
The significantly high arrival of Chinese students to UK campuses also poses some challenges. Students have not had any overseas travel for many years, and for some it will be their first international trip ever. Students are likely going to require additional support to get the best experience out of living and studying in the UK. And this is vital to help build successful word-of-mouth awareness of study locations.
VISAS
2022 also saw the highest number of sponsored study visas granted on record, with 463,315 visas issued. This not only reflects a recovery from the low numbers of visas granted during the Covid-19 pandemic but is also an increase on pre-pandemic levels. This will be vital to help rebuild the labour market in the UK which has already lost 40,000 EU students due to Brexit.
Many students work part-time in hospitality, retail and tourism industries while studying, and staff shortages continue to restrict economic recovery across the UK and other popular study destinations including Canada, Australia, New Zealand. The implementation of post-study work rights for students in key industry sectors is of great interest to prospective students and their parents.
MARKETING
Millions of students around the world dream of studying in the UK, but the challenge for UK universities is to capture the attention of the best students and encourage them to choose their institution. This means not only promoting the brand but also showcasing the lifestyle and cultural aspects of living in the UK and being close to Europe to appeal to the different interests and needs of international students.
Additionally, as the trend for Chinese students leans towards postgraduate studies, universities will need to adjust their marketing strategies accordingly, and highlight the benefits of post-study work rights in the UK and long-term opportunities including permanent residence.
We have covered many of these points in our latest education whitepaper: Reconnecting with Prospective Students in China. Download it here to find out more: https://www.umssocial.com/market-report/2023_link