As Australia looks to engage prospective students in China to regain pre-pandemic numbers, it is important that marketers are aware of the different ecosystems of apps in China to effectively create and deploy engaging content. However, marketing strategies that might have been successful before the pandemic will need to be revisited to harness the power of social media players like Little Red Book.
During the pandemic, Chinese citizens became even more engaged with their digital devices, and various other platforms are thriving. One of these includes the Chinese version of TikTok, known as Douyin, which specialises in short video content provided by platform users (user-generated content). The popular app Kuiashou also delivers similar video content. But the most important platform to establish a presence on now is Xiaohongshu or 'Little Red Book', often just referred to as RED. It is the Chinese equivalent of Instagram and holds the same influential status in China as that Instagram does in the West.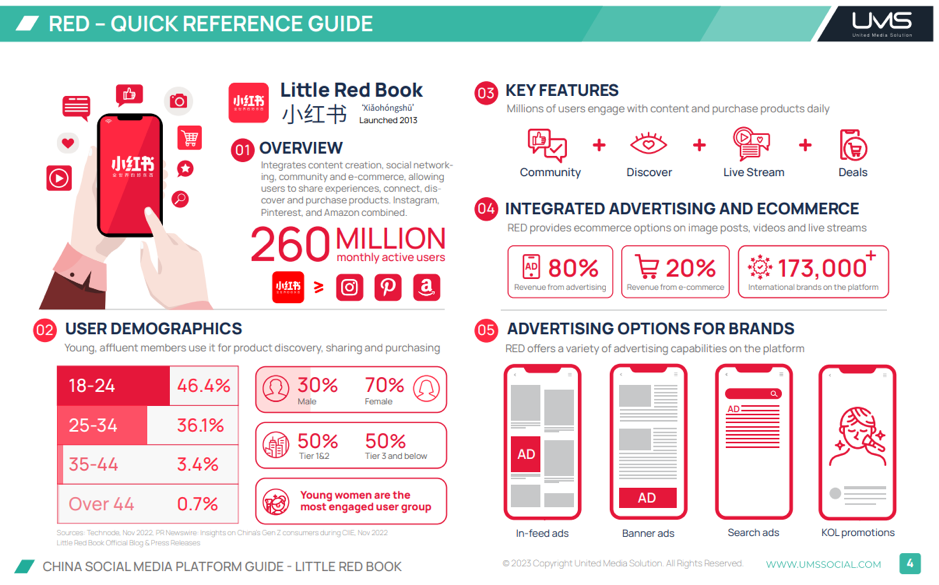 Often likened to China's Instagram, Xiaohongshu has carved its niche as a vibrant lifestyle-sharing platform that now has 260 million monthly active users. It has become a one-stop-shop for young Chinese users seeking reviews and opinions on a range of topics, including fashion, food, education and travel. Peer recommendations are very powerful in China, as consumers seek to make safe, popular, and well-regarded buying decisions. Launched in 2013, the platform has since grown to over 260 million monthly active users, with the majority being female Millennials from Tier 1 and Tier 2 cities.
The platform features a similar home feed to other social media platforms, but it is divided into three sections: a tab of content from profiles the user is "Following", a tab to "Explore" new content, and a tab that features "Nearby" content, which is often relevant to restaurants, cafes, and shopping.
Check out our latest report on Little Red Book that explains nuances of this platform, and how to create content that resonates with its young, mostly female audience. Download a copy here.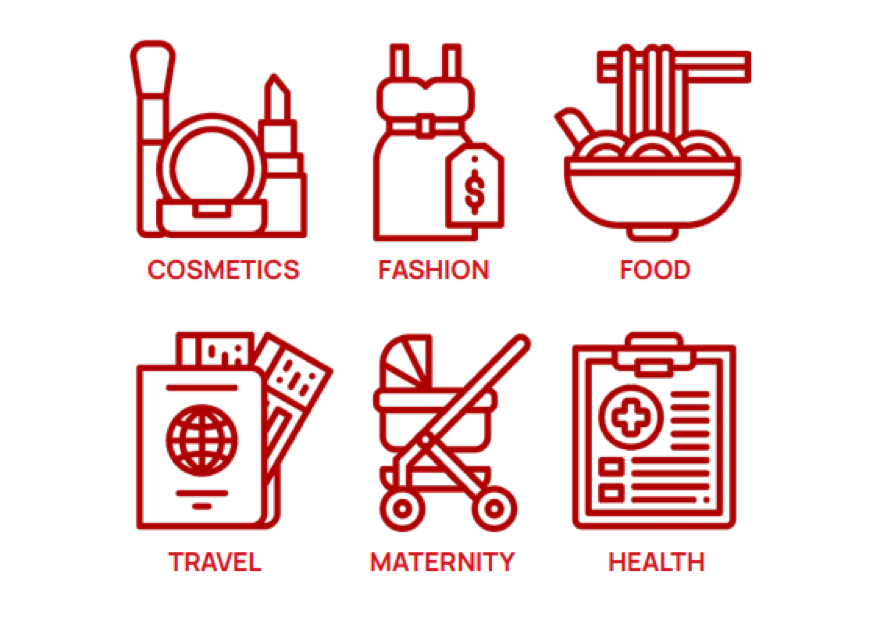 BRAND STRATEGY
RED is an excellent platform for brands to reach China's younger generation and growing middle-class, particularly with women making key daily household purchasing decisions. This makes it a perfect platform to engage with younger audiences who may be considering overseas education, and mothers. The platform places a high value on transparency and authenticity, and users expect the same from brands. It is recommended for brands to build up a content matrix for their account that consists of organic user generated content, content from other brands and partners, combined with KOL and KOC (Key Opinion Consumer) collaborations.
An investment in authentic high-quality content and influencer collaborations, including live streaming, can pave the way to success, but brands should ensure that collaborations are genuine, and the service being promoted is relevant to their audience. Users value ongoing engagment and updates, in a similar way that popular magazines provide guidance as a style leader and tastemarker.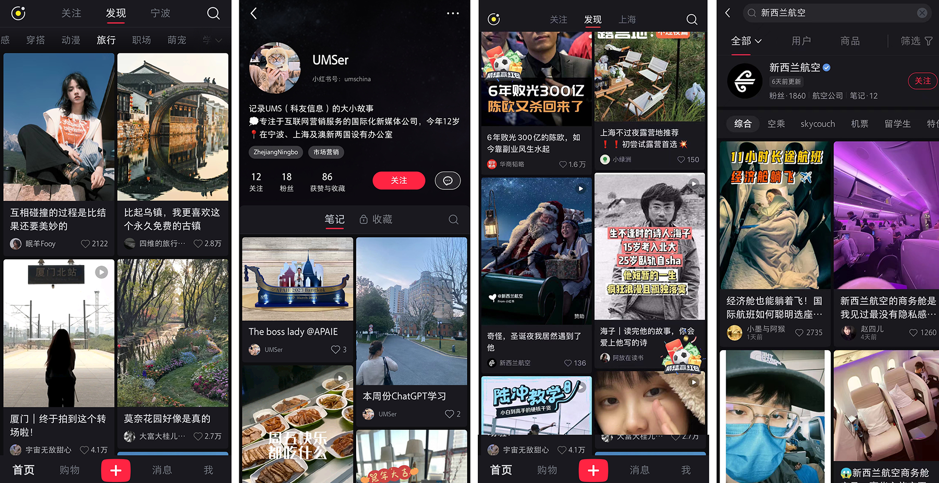 IMPORTANT INFLUENCE
Little Red Book is the preferred platform of professional Influencers in China. Known as Key Opinion Leaders, KOLs are regarded as style icons and tastemakers, enjoying travel and luxury regularly. However, there is an emerging segment of influencers that are likely to be more important to Australia's education sector – Key Opinion Consumers. KOCs are regular everyday consumers that share their experiences in an organic and engaging way to build trust and authentic engagement with their followers.
On Western social media, these are often known as 'Creators' (bloggers or vloggers) rather than fully professional Influencers. With a smaller number of followers, KOCs provide a more affordable route for influencer collaboration, and with the efforts of Little Red Book to help promote Australia lifestyle and education, this could be a winning combination for brands keen to make an impression on prospective students in China.
SOCIAL MEDIA CONTENT TIPS
Compelling visuals and engaging storytelling with video can make all the difference when it comes to promotional content on social media. Education providers can create posts to showcase campus facilities, student life, and academic accomplishments of the institution. Video posts, such as "a day in the life" clips, can provide a glimpse into the daily experiences of students on campus – from attending classes to utilising on-campus facilities, including library and study areas.
User-generated content (UGC) can provide excellent engagement. Students on campus will already be doing this themselves, so it makes sense to harness this interest in creating social media content and run on-campus challenges, competitions and campaigns to incentivise the creation of user-generated content – for example, the student that posts videos that gets the most likes/shares wins a prize.
Another area to focus on is to review previous student alumni and see if they are active on RED. What cities did they come from in China? Were specific agents responsible for many of those applications? What fields have those students ended up working in? Are many of them still members of alumni associations or student groups?
By evaluating these areas, it's possible to identify new ways to link into existing networks familiar to the education brand. Including agents, student networks, universities and even entire cities where the groundwork has already been laid can provide momentum and recovery – rather than completely starting from scratch.
Check out our latest report on Little Red Book that explains nuances of this platform, and how to create content that resonates with its young, mostly female audience. Download a copy here.
END.