The strategic partnership between Tourism New Zealand and Xiaohongshu was formally announced in Shanghai on June 29th during the week-long delegation of New Zealand Business leaders to China. Prime Minister Chris Hipkins launched the initiative with Xiaohongshu's chief marketing officer, Wang Yajuan.
A selfie taken with Hipkins by Yajuan, posted on Tourism New Zealand's official Xiaohongshu account, marked the beginning of a series of collaborations aimed at promoting New Zealand as a premier travel destination to the affluent Chinese consumers on the platform[1].
Source: Xiaohongshu – Tourism New Zealand Official RED Account
PLATFORM STRATEGY
Xiaohongshu, also known as Little Red Book, is one of China's most popular lifestyle-sharing platforms. With the partnership, Tourism New Zealand aims to leverage the power of this social media audience to help showcase the country to potential visitors and students. It will take time for New Zealand reach 2019 tourism levels, and this initiative will provide much-needed exposure in the China market.
Often likened to China's Instagram, 'RED' is a vibrant lifestyle-sharing platform that now has 260 million monthly active users. It is the go-to app for Chinese seeking reviews and opinions on a range of topics, including fashion, food, and travel. During the launch event, Hipkins emphasized the role of social media in influencing consumer decisions, stating that Chinese consumers are sophisticated and experienced, and user recommendations play a key role in their decision-making.
The partnership offers Xiaohongshu a chance to enrich its platform with high-quality content from popular travel destinations which will help to cement its fashionable and trendy status. Data from Xiaohongshu's website show that users expect to travel 3.68 times in 2023, up from 3.05 times in 2022[2], indicating a strong demand for travel content that could provide benefit to New Zealand.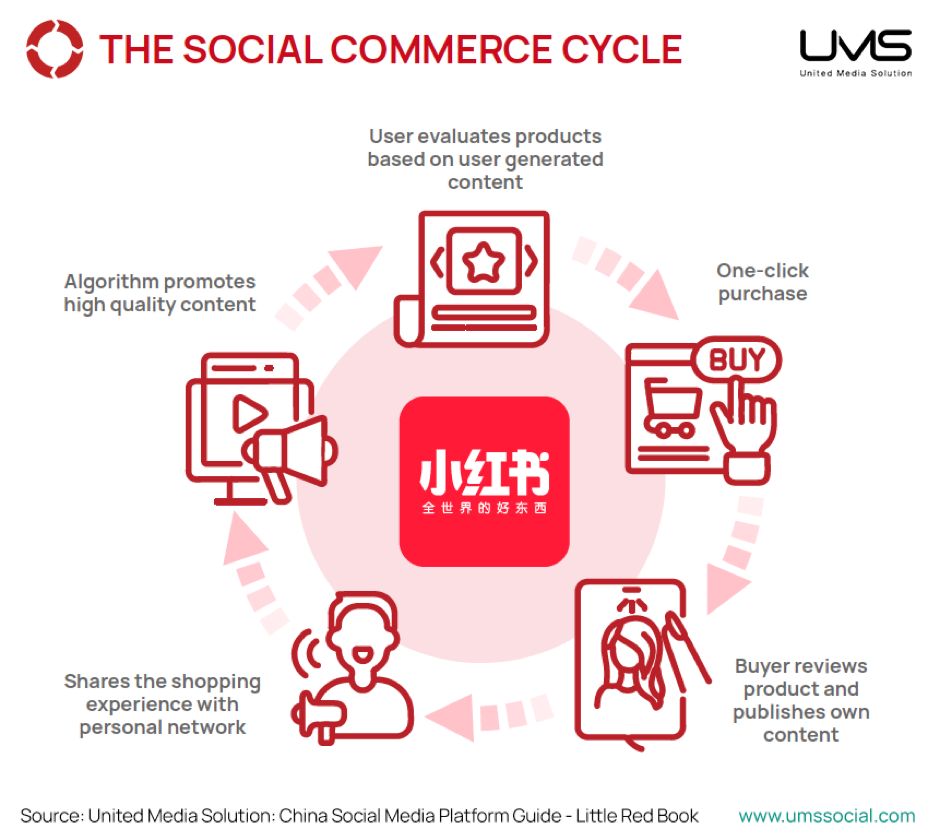 SOCIAL COMMERCE
The role of social commerce is becoming increasingly important as affluent consumers become more sensitive to being 'sold to' by brands and seek out genuine reviews from the consumers of products. Consumers are aware that short reviews on websites can be fake and prefer to look for photos and videos of a product being used (or a location being visited) to back up the claims made in an advertising campaign.
General awareness of a tourist destinations can be achieved through digital marketing, but the final decision-making process is often influenced by content from peers, and the experiences of friends and family. Purchasing, reviewing, sharing, commenting, searching and discovery create a reinforcing 'Social Commerce Cycle' that can help products and entire categories to go viral when new trends arrive.
JOINT MARKETING EFFORTS
In addition to the partnership with Little Red Book, Tourism New Zealand has also announced a collaboration with Trip.com, China's largest travel booking provider. The strategic partnership will include a series of joint marketing campaigns to attract tourists from around the Asia Pacific region to New Zealand[3].
The partnership with Trip.com extends beyond mainland China to include other markets such as Hong Kong, Taiwan, Japan, South Korea, Singapore, India, Malaysia, Indonesia, Thailand, and Australia. Attractive travel itineraries and experiences will be created to cater to the specific needs of these visitors, which will help to further establish New Zealand as a destination of choice.
These ongoing collaborations will provide excellent exposure for New Zealand destinations and brands that are positioning themselves on social media in China. If you have any questions, you can get in touch with us here: sales@umssocial.com
To read more about Little Red Book, you can download our special report here:
UMS China Social Media Marketing Guide – Little Red Book
[1] Technology partnership connects New Zealand with Chinese travellers, 29 June 2023
https://www.beehive.govt.nz/release/technology-partnership-connects-new-zealand-chinese-travellers
[2] Xiaohongshu forms a partnership with Tourism New Zealand to focus on tourism promotion  DSB News, 30 June, 2023
https://www.dsb.cn/221449.html
[3] Trip.com Press Release, 30 June 2023
 https://en.prnasia.com/releases/apac/trip-com-group-and-tourism-new-zealand-join-hands-to-market-new-zealand-as-a-key-travel-destination-410042.shtml
END.