This article is part of a series from our latest whitepaper, our China Social Media Platforms Guide. You can download the guide here: https://www.umssocial.com/china-social-media-platform-report/2023?s=blog
INTRODUCTION:
Bilibili is a Chinese online video-sharing platform that launched in 2009. It has become one of the most popular platforms in China, with over 326 million monthly active users and almost 4 billion daily video views – it is often referred to as the Chinese version of YouTube. It provides users with a similar platform to upload, share, view, and comment on videos.
Bilibili first became known for animation and gaming content but has now expanded to a wide range of video content as the core young audience has grown into working consumers. It also features 28 million monthly paying users who pay a subscription fee and can buy credits to tip creators and access additional content and features.
KEY FEATURES:
Uploading: Like YouTube, the platform offers a range of editing tools, music options, captions and effects for users to enhance their user-generated videos.
Real-time captions: Video comments can be shown as a stream of captions on top of the video, scrolling right to left. They are known as Danmu 'bullet comments' because of their similarity to the graphics of arcade shooter games. Danmu give users a live 'chat room' experience when viewing videos.
Live-streaming: This is especially popular within the gaming and anime audience that enjoys watching and interacting with their favourite content for hours. Video live-streaming is similar to 'going live' on YouTube and Facebook and gaming platform Twitch. Esports gaming tournaments on Bilibili are often broadcast to millions of viewers.
Video on Demand: Bilibili has also become one of the leading video streaming platforms in China, with movies, documentaries and TV shows available. Fans can watch together and add their comments in real time, as an overlay above the video stream.
USERS AND BEHAVIOUR:
Bilibili has a young user base, with over 80% under 25. They are highly engaged, spending over 96 minutes per day on the platform and active in creating and sharing content. Over 40 million user-generated videos were uploaded to the platform in 2022. Registered users also must pass a 40-question test (which includes anti-bullying and comment etiquette) which sets a high bar for free membership and helps to build a supportive user community. Available on both desktop and mobile app, users will often have Bilibili open in a web browser as they play games or study on a PC or laptop.
POPULAR CONTENT:
Anime and gaming content ranks highest, followed by music, entertainment, and technology. It has also become a leading platform for live-streaming, with high profile gaming and esports events taking place on the platform. Education content has grown over time and has been curated into a 'Knowledge Zone'. Content is available in free and paid options. This has made the platform an important touchpoint for engaging prospective students for international studies.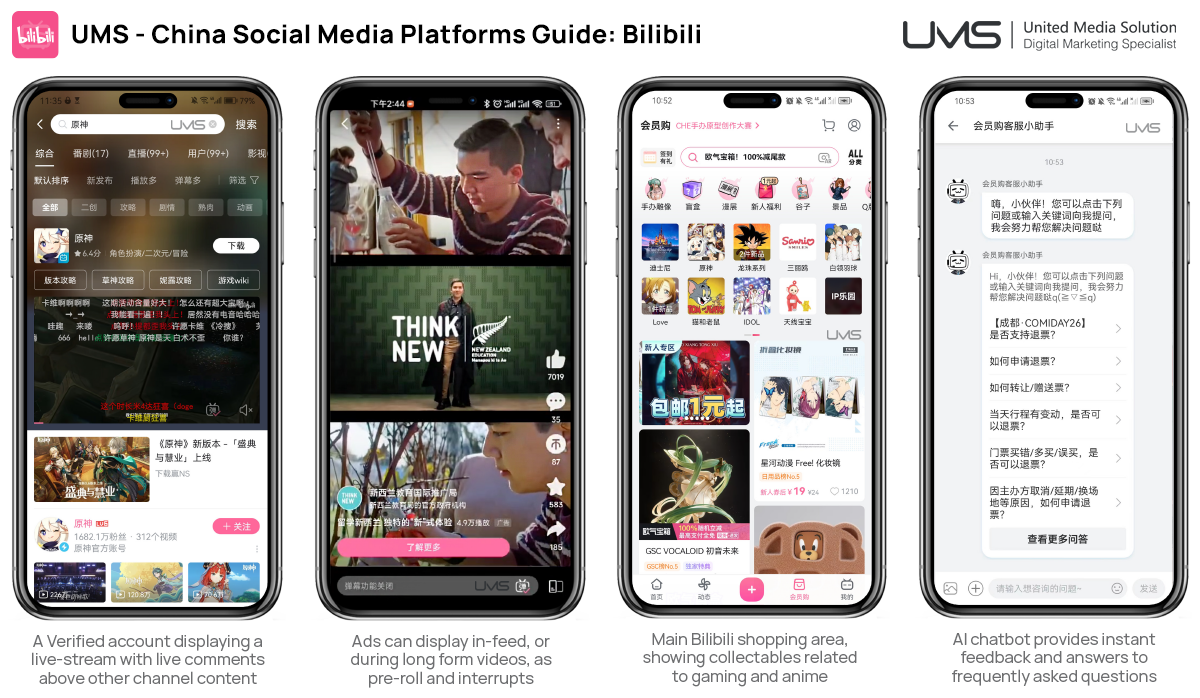 ACCOUNT TYPES:
Bilibili offers three types of accounts: Unverified (non-registered), Verified (registered), and Official Brand Accounts. Unverified users have a comment limit of 20 characters and limited site access. Verified Accounts can also be upgraded to a Premium membership account, allowing for an ad-free experience and the ability to "tip" creators or brands with Shells or 'B Coins', When influencers receive tips and can be withdrawn as CNY into a bank account as income. This provides a revenue stream for many professional creators. Official Brand Accounts are reserved for business use.
ADVERTISING OPTIONS:
The platform offers banner ads on video pages, large video ads or image ads on the homepage, and video ads that appear in the list of suggested content. These can all be highly targeted, allowing brands to reach their desired audience based on age, location, and interests. Bilibili has platform festivals including the Creativity Festival and New Product Day, where brands are invited to engage users, increase awareness, and boost sales. Income from advertising on the platform in 2022 was US$736M, 12% higher than in 2021.
ECOMMERCE OPTIONS:
Bilibili has recently launched ecommerce features that allow users to purchase products directly from live-streamed content on the platform. Users can access a shopping cart directly on the live-stream interface similar to Taobao Live and Douyin, which allows them to view product listings and purchase items. The platform also offers virtual products, including badges and various profile upgrades, for users to customise their presence on the platform. The young audience has growing buying power and is willing to try new things, making Bilibili an attractive platform for brands to try.
CUSTOMER SUPPORT:
Bilibili has a dedicated customer service team along with AI chatbot functions. The platform also has a community-focused approach to customer service, with users able to report issues and provide feedback directly. Brands can interact directly with users, post replies to video comments, help answer questions, and direct users to the answers for FAQs. Product features, service and support can all be explained in long-form videos, similar to the use of YouTube by brands in Western markets.
BRAND STRATEGY:
Brands looking to succeed on Bilibili need to understand the platform's unique culture and audience. This includes creating content that resonates with the platform's anime and gaming-focused audience and engaging with users through social networking and other features.
Bilibili provides an environment to host short, entertaining brand content, along with long-form videos that can explain product features and benefits more deeply. Chinese consumers study brands comprehensively before making a buying decision and this platform can provide an additional platform for brand awareness.
PLATFORM SUMMARY:
Bilibili is a unique social media platform that offers brands a range of opportunities to attract a highly engaged and active user base. With its focus on anime and gaming content, interactive user experience, and community-driven content creation, Bilibili has captured the minds of young consumers in China and continues to be an important platform to consider in the China market as these consumers age and become a larger portion of the buying public.
The similarity to the YouTube website is important. Professional and amateur creators upload both desktop (widescreen) and mobile (vertical) content to Bilibili, the same way standard widescreen YouTube content sits alongside vertical YouTube Shorts on a creator's page. This makes Bilibili unique amongst the other social media platforms in China, which are usually mobile first and only available as smartphone apps.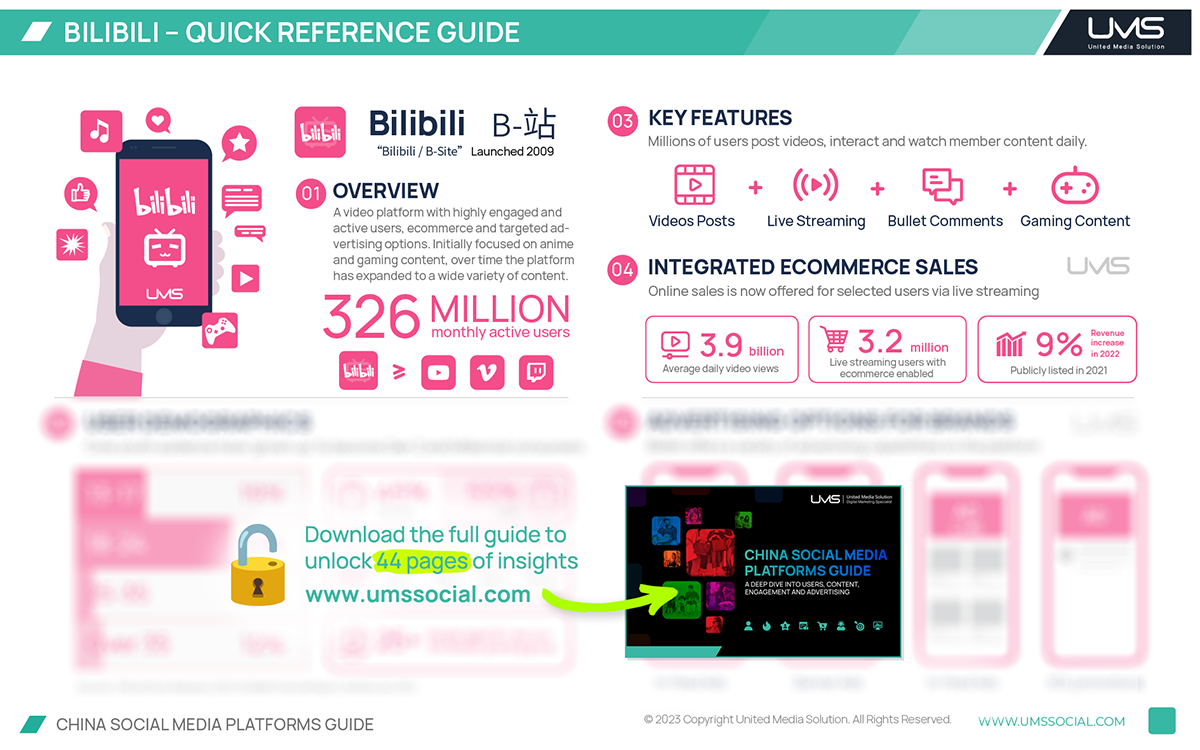 CHINA SOCIAL MEDIA PLATFORM ARTICLES ON THE UMS BLOG:
What is Xiaohongshu, Little Red Book? (China's Instagram)
What is Douyin? (China's Sister App of TikTok)
What is Bilibili? (China's Answer to Youtube)
What is WeChat? (China's "Super App")
For more Insights information contact guy.thompson@umssocial.com, or sales@umssocial.com